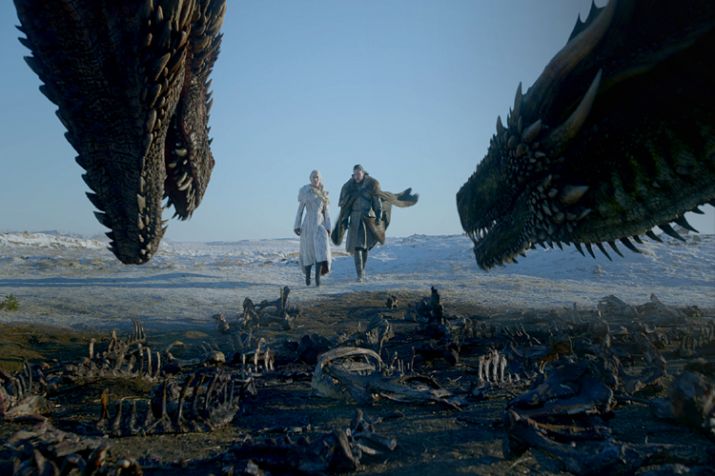 The first official trailer of the final season of Game of Thrones just dropped on the internet and of course, the crazy fans of this dramatic fiction cannot hold their breath to witness the biggest fight in the story. This American series is popular worldwide for its distinctive content. Rated 9.5 out of 10 on Internet Movies Database, abbreviated as IMDB, the show has won many accolades.
Summarising the Game of Thrones' saga in a sentence, nine noble families fight for control over the mythical lands of Westeros, while an ancient enemy returns after being dormant for thousands of years. Created by David Benioff and D.B. Weiss, the first edition of Game of Thrones or GOT was released in 2011 and now, in 2019, the show is coming to its conclusion.
Being the last season of GOT, season 8 will witness the biggest battle between Jon Snow, Daenerys Targaryen, and all of the North as they prepare for the White Walkers' invasion. Winter has finally come with a new enemy far greater than anything to the south of Winterfell. The official trailer of season 8 also gives a glimpse at the rest of the Stark children, including Arya who has returned with a newfound bloodlust. Bran and Sansa are also in the picture, and they also seem to be preparing for war against an undead army.
WATCH Official Trailer of Game of Thrones Final Season 8 Here:
Speaking of GOT's previous season, it ended with the revelation that the White Walkers now have their own dragon, which is sure to wreak havoc on the people of Winterfell. It's a fight that Jon tried to warn Cersei about during last season, but she made it clear that she wasn't interested in helping him defend the kingdom if he wasn't ready to bow down to her as Queen.
The final season of Game of Thrones to be aired April 14 on HBO.
For all the latest Hollywood updates, check out our Facebook page!