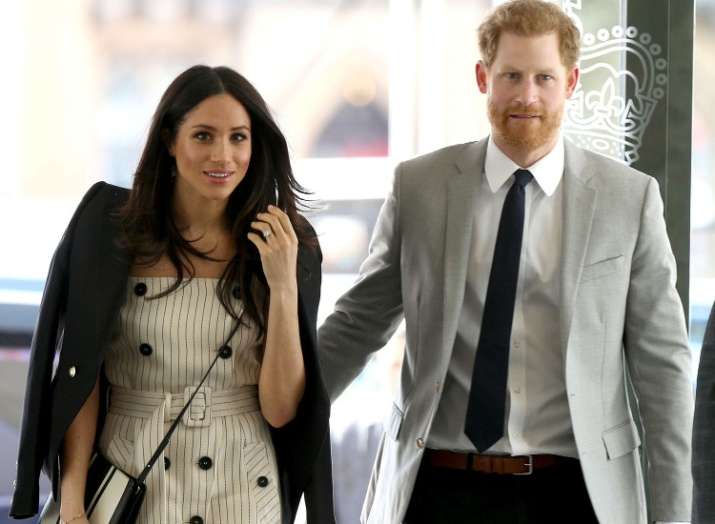 Dressing royal doesn't happen on discount. That's what one can say about Meghan Markle's royal wardrobe, which is estimated to be worth $1 million.
Since her engagement to Prince Harry last November, Markle has stepped out in approximately $1 million worth of clothing and accessories, reports pagesix.com.
Right from her wedding outfit to her custom Givenchy ceremony gown, Markle seems to put her best foot forward when it comes to being royal ready.
Markle, 36, wore her custom Givenchy ceremony gown by Clare Waight Keller clocking in at over $440,000 and her Stella McCartney reception look worth more than $157,000. She wore the printed Oscar de la Renta dress to Prince Harry's cousin's wedding retails for almost $6,000.
She wore a $643 sheer-panelled Goat dress to Prince Charles' garden party.
England won the World Cup in 1966. This year 2018, it will be 52 years. World Cup 2018 could be return of England's glory in Russia. ⚽ #worldcup #worldcup2018 #russia2018 #meghanmarkle #princeharry #england #ENGvCOL #ENGCOL #football #RoyalFamily #united2026 @RooyalFamily pic.twitter.com/zHbGHgAqrj

— Meghan Markle (@IamMeghanMarkle) July 3, 2018
Articles being written on #Meghan breaking #Royal "protocol". I think we can shut up about her crossing legs. What you say about below Picture of #KateMiddleton ? #duchessofsussex #MeghanMarkle pic.twitter.com/P3lgUGRIIp

— Syed Zeeshan (@Syed_M_Zeeshan) July 2, 2018
According to Katie Nicholl, royal expert, it is Prince Charles who has been picking up the tab for her "working royal wardrobe" post-nuptials.
"Look at the publicity she has brought in run up to the wedding. I would argue that's worth every penny," Nicholl told Entertainment Tonight.
Markle may recycle some of those royal looks in the months to come, in Kate Middleton-style.
"When you are buying that sort of couture with those sorts of price tags it would be criminal not to re-wear them," Nicholl said.
Memories from last year.#meghanmarkle #royalfamily #rooyalfamily #princeharry #katemiddleton #princewilliam #royals #britishroyal #royalaunts #royaluncles #london #england #uk #family #church #life #photography #love #beautiful #lifestyle #fashion #fitness #thankyou #memories pic.twitter.com/Mmp4VBa0fQ

— Meghan Markle (@IamMeghanMarkle) June 27, 2018
Find a guy who looks at you the way Harry looks at Meghan 🙈#MeghanMarkle #PrinceHarry #RoyalAscot pic.twitter.com/RNYprUfy4p

— Kate saw BohRhap x3 (@R0gerMTayl0r) June 19, 2018
(With IANS inputs)