Aishwarya Rai Bachchan and daughter Aaradhya have also been found Covid-19 positive. In a late evening tweet on Saturday, Amitabh Bachchan, son Abhishek informed that they had tested positive for coronavirus and were admitted to Nanavati Hospital. Aaradhya and Aishwarya are home quarantined in Jalsa. 
Amitabh Bachchan confirmed that he has tested COVID-19 positive on Saturday. He was admitted to Nanavati Hospital on Saturday evening later which he tweeted and gave the information about his health. Soon after Big B tweeted to confirm that he has been hospitalized with COVID-19 infection, the Bollywood icon's son, actor Abhishek Bachchan, also took to social media on Saturday night to state that he has tested positive to the novel coronavirus. The COVID-19 antigen test reports of Jaya Bachchan, her daughter-in-law Aishwarya Rai Bachchan and granddaughter Aaradhya Bachchan came out negative initially. However, in the second test, Aishwarya and her eight-year-old daughter tested positive. Nanavati Hospital Dr. Ansari stated that the 77-year-old senior actor is not on ventilation and is comfortable. Further details are awaited. Meanwhile, know each and every detail related to the Bachchan family's health here:
Amitabh and family COVID-19 positive Updates:
Amitabh Bachchan has express gratitude to fans, well-wishers and colleagues for showering concern and prayers, after he and his family members tested Covid-19 positive. His post was accompanied by a folded hand picture.
Abhishek Bachchan has confirmed wife Aishwarya Rai and daughter Aaradhya Bachchan's coronavirus diagnosis adding they will be self quarantining at home, while he and father Amitabh Bachchan stay at the hospital till doctors decide otherwise.
"All four bungalows - Jalsa, Pratiksha, Janak and Vatsa - of actor Amitabh Bachchan's family have been sealed after sanitization. 30 people working at the bungalows have been tested for COVID-19 & the results are awaited", said Brihanmumbai Municipal Corporation (BMC).
Employees at Amitabh Bachchan's bungalows have been screened. Also, people who came in contact with the actors during the last few days have also been screened.
According to the latest reports coming in, Jaya Bachchan has left for hospital.
While Amitabh and Abhishek have been admitted to the hospital with mild symptoms of COVID19, Aishwarya and daughter Aaradhya will stay in home isolation. They do not have any symptoms of the deadly coronavirus infection yet, though they have tested positive.
BMC sealed Amitabh Bachchan's four bungalows and sanitised the entire area as Aishwarya and Aaradhya also tested positive for coronavirus. Among 52 containment zones in the area, Big B's houses Jalsa, Pratiksha, Janak and Vatsa have been added. Also, Anupam Kher's brother, Raju Kher's house has also been declared as the containment zone after his family including mother Dulari, wife and daughter, tested COVID19 positive. His house is also in the same area.
K West Ward, where more than 40 Bollywood movie stars, TV stars and celebrities live, is on 4th spot in Mumbai's top 24 wards of Coronavirus containment. As of July 9, the total positive COVID19 patients in the West BMC ward were 5212, in which 3550 were discharged. A total of 240 coronavirus positive patients have died. The total number of active cases are 1422.
All the four bungalows of Amitabh Bachchan-- Jalsa, Pratiksha, Vatsa and Janak, have been sealed by BMC officials.
In the second test report, Jaya Bachchan tested negative. Her daughter Shweta Bachchan Nanda and her kids, Navya and Agastya, have also tested negative for COVID19.
In another turn of events, Aishwarya Rai Bachchan and daughter Aaradhya Bachchan have also tested positive for COVID19.  Rajesh Tope, Maharashtra Health Minister, confirmed the news and tweeted, "Smt. Aishwarya Rai Bacchan & Daughter Aaradhya Abhishek Bacchan have also been detected positive for Covid19. Smt. Jaya Bachhan ji is tested negative for covid19. We wish the Bacchan Family to get well soon with a speedy recovery."
As per BMC commissioner Vishwas Mote, after contact tracing, it came to light that Big B has not gone out anywhere, but Abhishek Bachchan went out for the dubbing of his web series, that is why the team of BMC is going there to check or who was not corona there.
Mumbai Mayor Kishori Pednekar said actors Jaya Bachchan and Aishwarya Rai have tested negative for coronavirus. 
Amitabh and Abhishek's health is stable. Both of them are comfortable and feeling better. They are accepting the general blood chemistries with stable vitals. Both slept well and had their breakfasts.
Tracing, tracking, testing, and treatment is being done by BMC. This comes under the 4T formula which is being followed in slums, high rise buildings, and posh areas.
The hospital will not release the Health Bulletin regarding the treatment of the Bachchans at the request of the family. Moreover, the actor will himself announce everything on Twitter. 
BMC is taking action by following SOP. Aishwarya Rai and Jaya Bachchan have been quarantined at home. His building is sealed. His first test has come negative and so now a few days later he will give a swab test.
Contact tracing of around 28 people have been done and they have been asked to home quarantine themselves. Aishwarya Rai Bachchan, Jaya Bachchan, and Aaradhya are currently quarantined at their Jalsa bungalow.
BMC official including a Chief Officer of the West Ward and Dr. Gullnar, Chief of the Department of Health is present are discussing about the health of Senior and Junior Bachchan in a meeting. Efforts are being made to find out the possible cause of corona infection caused to the father and son. After the meeting, the information of Amitabh Bachchan's health will be given to the BMC commissioner
Many staff members and workers at Big B's house have been tested for the virus. Results are awaited.
The sanitization process at and around Amitabh Bachchan's house Jalsa, and Pratiksha has been completed by the team of BMC officials.
The BMC officials working outside Big B's house are taking full care of precautions and were spotted wearing masks and kit. Here's the banner that has been put outside their office Janak:
ALSO READ: Prayers for Amitabh Bachchan, son Abhishek at Mahakal temple in full swing after they test COVID-19 positive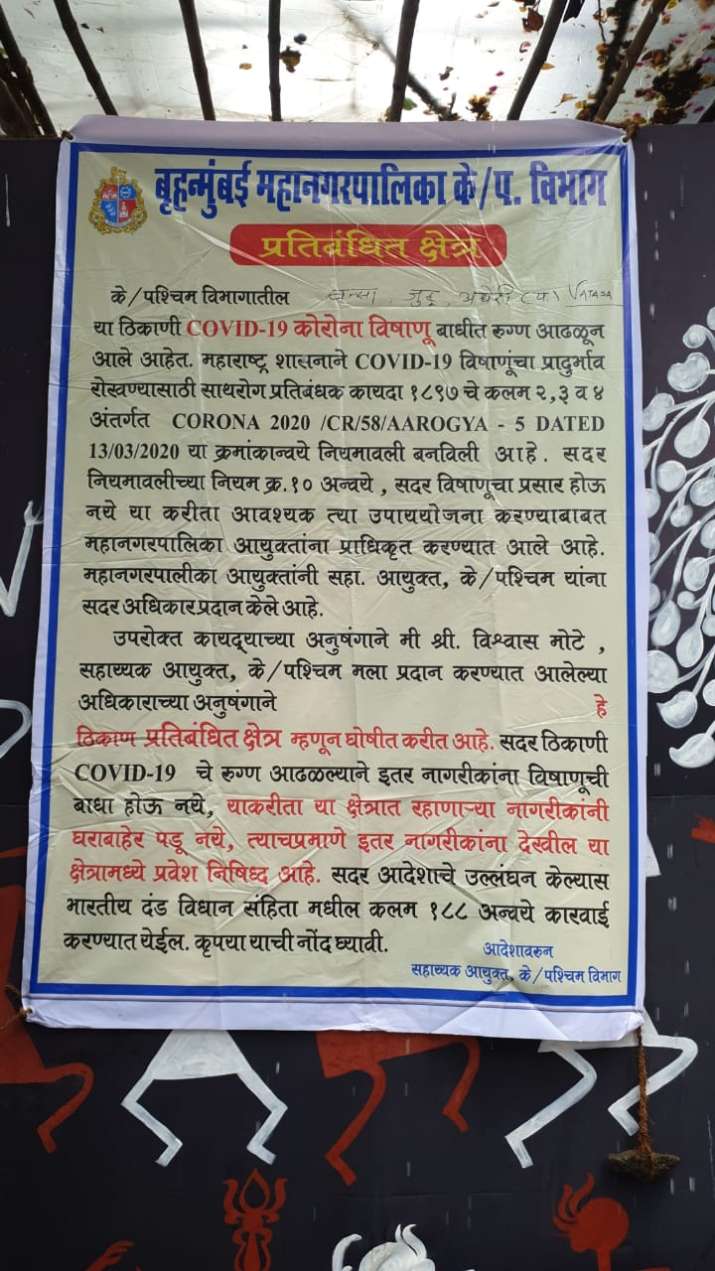 Big B's family Pandit has been continuously praying for the actor's health outside Nanavati hospital.
Mumbai police arrived at Jalsa with BMC officers and putting containment zone banner and barricades outside Jalsa.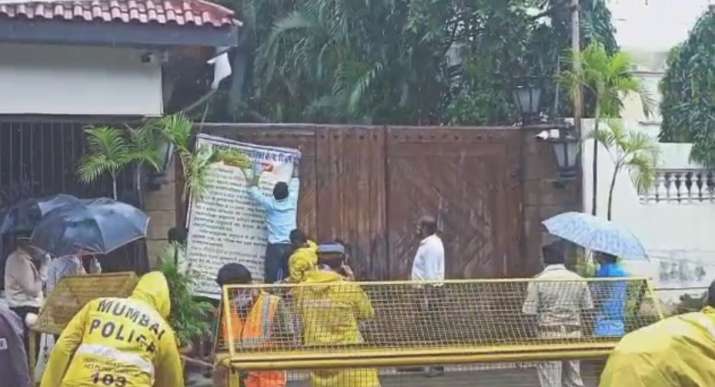 Amitabh Bachchan's house Jalsa declared containment zone by BMC officials. While police have barricaded the area looking at the increase in the number of fans outside the building.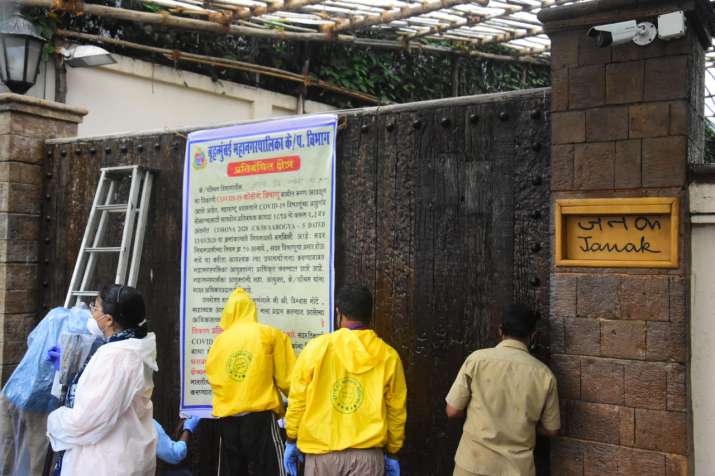 A team of BMC officials has reached the Jalsa building and will soon begin the sanitization process.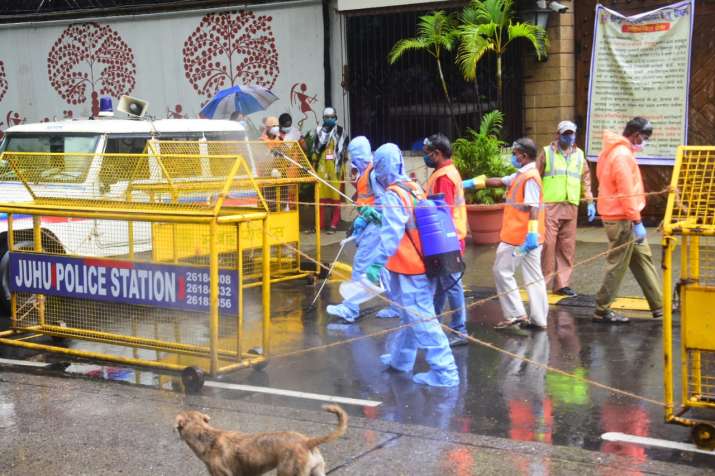 ALSO READ: Inside pictures of Amitabh Bachchan's house Jalsa: Witness grandeur
Rajesh Tope, Maharashtra Health Minister, said, "Both Amitabh Bachchan and Abhishek Bachchan underwent Antigen test and they have tested positive for COVID-19. Other family members including Jaya Bachchan and Aishwarya Rai Bachchan were also tested and their results will come tomorrow (Sunday). As Bachchan ji has specifically said in his tweet that all people who came in contact with him past five to seven days should get tested and quarantine themselves. I pray to god that Amitabh Bachchan Ji recovers from this soon."
Big B's doctor told India TV that the megastar had a sound sleep last night and even had breakfast this morning. His oxygen level has now risen from 91 to 95 and the condition is stable. 
Amitabh Bachchan's granddaughter and Abhishek-Aishwarya's daughter Aaradhya has been tested COVID-19 negative. Previously, the test reports of Jaya Bachchan and Aishwarya came negative.
ALSO READ: Aishwarya Rai Bachchan, Aaradhya and Jaya Bachchan test COVID-19 negative
Veteran actress Rekha's bungalow in the Bandstand area of the Bandra locality has been sealed by Brihanmumbai Municipal Corporation (BMC) after a security guard tested positive for Covid-19. The bungalow named Sea Springs has also been declared a containment zone and BMC has sanitised the locality completely. READ MORE HERE.
The house helps and driver at Amitabh Bachchan's house have also been tested for COVID-19 and test results are awaited. Meanwhile, the 77-year-old star has been kept in the isolation ward. 
ALSO READ: Aishwarya Rai Bachchan, Aaradhya and Jaya Bachchan undergo COVID 19 tests; Results awaited
Amitabh Bachchan is stable and not on ventilator, reveals Dr. Ansari from Nanavati Hospital. "He was not in tention at all and was comfortable. All of his preliminary reports are satisfactory," reveals the doctor to India TV. He has very mild symptoms, informed Nanavati Hospitals PRO. He has mild symptoms.
Rajat Sharma, Editor-in-Chief and Chairman, India TV wished a speedy recovery to the legendary actor and wrote, "Amitabh Bachchan is a fighter. He will surely fight this and come out negative soon. My best wishes are with him. @SrBachchan."
Sound N Vision dubbing studio closed temporarily as Abhishek Bachchan had tested COVID positive. Just a few days back, Abhishek dubbed there for his newly released web series, 'Breathe: Into the Shadows.' The web show also featured Amit Sadh, Nithya Menen among others. The show marked the digital debut of Junior Bachchan and released on Amazon Prime Video on July 10. Abhishek recently took to Instagram and thanked everyone for all the love and support.
Read the review of Abhishek Bachchan's 'Breathe: Into the Shadows' here.
Abhishek Bachchan's wife and actress Aishwarya Rai Bachchan and Amitabh Bachchan's wife Jaya Bachchan have tested negative for coronavirus, according to our sources.
Nanavati Hospital, where both Abhishek and Amitabh Bachchan are admitted is at Ville Parle is near to the actor's residence in Juhu area. 
Amitabh Bachchan and son Abhishek, who tested positive for COVID-19 have very mild symptoms of coronavirus including cough and fever, reveal sources. Their houses Prateeksha and Jalsa will be sealed by BMC and other buildings in the area will be sanitized. Amitabh Bachchan's house comes in the BMC's ward. So far, 5300 Corona positive cases have been found in this ward, there are 1445 active cases.
Taking to Twitter on Saturday, Bollywood megastar Amitabh Bachchan informed everyone that he has tested positive for COVID-19. The information was also shared on Instagram along with a picture and caption reading: "I have tested CoviD positive ..  shifted to Hospital  .. hospital informing  authorities .. family and staff undergone tests , results awaited .. All that have been in close proximity to me in the last 10 days are requested to please get themselves tested!"
Soon after Senior Bachchan's tweet, his son Abhishek Bachchan had tweeted to confirm that he too had tested COVID positive. He wrote, "Earlier today both my father and I tested positive for COVID 19. Both of us having mild symptoms have been admitted to hospital. We have informed all the required authorities and our family and staff are all being tested. I request all to stay calm and not panic. Thank you". In the next tweet, he added: "The BMC has been in touch and we are complying with them." 
He further tweeted, "The BMC has been in touch and we are complying with them."
Reported by - Joyeeta Mitra Suvarna, Paras Kothari, Jayprakash Singh, Rajesh Kumar, Charul Malik
For all latest news and updates, stay tuned to our Facebook page
More Bollywood stories and picture galleries