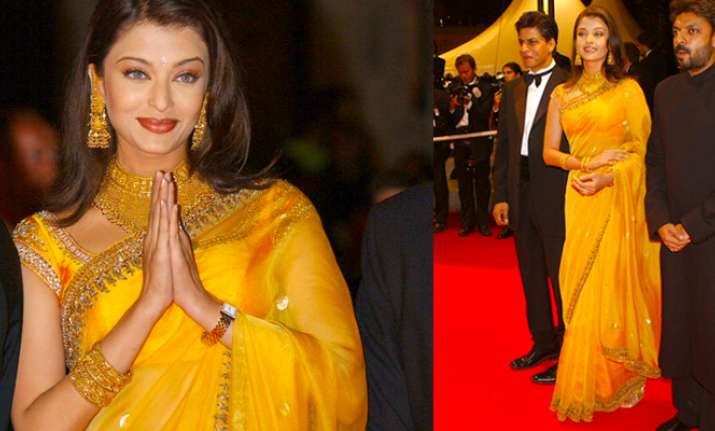 Former Miss World Aishwarya Rai Bachchan, who made her shining debut at Cannes Film Festival 16 years ago, has always been talked about her Cannes appearances. Last year at the 70th international film festival, Cannes, southern France, Aishwarya looked breathtaking in her green floral and wavy pattern layered Yulia Yanina gown. And she ruled the fest like a queen in her peachy floral embroidered gown in her outing at the 70th international film festival Cannes. 
The diva, who will be soon making her 16th appearance at Cannes, appeared for the first time at the fest with Shah Rukh Khan. Interestingly, Aishwarya was the first Bollywood actress to represent India in France with Shah Rukh Khan and filmmaker Sanjay Leela Bhansali in 2002. Aishwarya wore a yellow Neeta Lulla sari for her first appearance at Cannes Film Festival and she first went to the Cannes Film Festival with Sanjay leela Bhansali's film Devdas back in 2002.
Recounting her first experience at the fest, Aishwarya earlier said: "We attended the festival not just as artistes but as proud representatives of Indian cinema, and showcasing a film that meant so much to us. The kind of reception we got for the movie was truly overwhelming and I will cherish it all my life."
When at Cannes, pose and pout 😘 #LifeAtCannes #AishwaryaAtCannes #CannesQueen pic.twitter.com/er7dGHvr9W

— L'Oréal Paris India (@LOrealParisIn) May 19, 2017
Talking about her Cannes journey Aishwarya earlier said, "It wasn't for an individual but the entire team of Devdas and it meant a lot to us because it was quite unexpected. Because we were showcasing our film and getting that kind of reception that we did was truly overwhelming." She added, "So the first makes it so memorable, imagine to have first experience and one like that… So that is something and I don't think anyone in the world can take away from us, and that is something that will always make us feel thankful for having that experience for us to cherish and recount forever."
Redefining beauty and grace for the sixteenth time! #AishwaryaAtCannes #LifeAtCannes #CannesFilmFestival #Cannes2017 #Cannes70 🌸🙌 pic.twitter.com/4N5PuUwyK8

— L'Oréal Paris India (@LOrealParisIn) May 19, 2017
And fans are eagerly waiting to see how the Goddess of beauty Aishwarya is going to surprise them this time with her Cannes look.