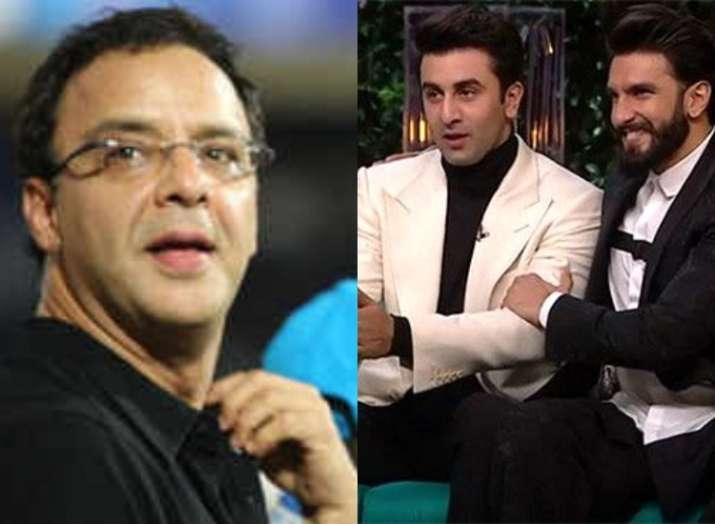 As Ranbir Kapoor starrer Sanju is getting closer to its release date, many secrets about the film and the actors are popping up. While it is becoming difficult for the fans to wait for the film to hit the screens, producer Vidhu Vinod Chopra revealed that he wanted Ranveer Singh to play the role of Sanjay Dutt in Sanju and not Ranbir Kapoor.
In a conversation with Telegraph, Producer Vidhu Vinod Chopra accepted that he was not very impressed by the idea of making a film on Sanjay Dutt's life. He said, "When he told me, I was like, 'What's there in Sanjay Dutt's life that merits being made into a film?! It's better you make a film on my life… how I left Kashmir as a young boy and struggled when I came to Bombay.' (Laughs) I thought Raju and Abhijat (Joshi, Sanju's co-writer) had lost their minds!"
Then what made him change his mind? Well, it was the pure father-son bond between Sanjay Dutt and his father Sunil Dutt that melted his heart. He revealed, "When he (Hirani) sat me down and started narrating all that had happened in Sanju's life, I was stunned! At first, I thought it was hogwash… that Sanju was somehow not telling Raju the truth, but when we started researching all that he's said — from the 308 girlfriends he had to how he begged on the streets of US for the money to buy a bus ticket — we realized that everything he had told us was true!"
#Sanju is a celebration of the special bond between a father and his son. Watch an exclusive father-son moment from the film. Releasing 29th June.#JaaduKiJhappi @rajkumarhirani @VVCFilms #RajkumarHiraniFilms #FathersDay pic.twitter.com/MMrlFDiNOk

— Fox Star Hindi (@foxstarhindi) June 17, 2018
After Chopra changed his mind about the movie, he was not happy with the choice of the actor by director Rajkumar Hirani. He felt that Ranbir Kapoor was not the right choice to play the role, in fact, Ranveer Singh fitted his idea of the role. 
He said, "Another decision of Hirani that Chopra acceded to was casting Ranbir Kapoor in the film. "When he told me about Ranbir, I wasn't happy at all. I thought someone else, like Ranveer Singh, could play this role much better. I thought Ranveer had the flamboyance, the emotional depth as well as the ability to change himself completely to play Sanjay Dutt. But Raju was adamant that Ranbir would be perfect. And when we started shooting and Ranbir became Sanjay Dutt, I had to kind of eat my words."
I met #Sanju in Jail in 2013. Recreation of how he looked then. #RanbirKapoor #RajkumarHiraniFilms @VVCFilms @foxstarhindi pic.twitter.com/r33HutIVnL

— Rajkumar Hirani (@RajkumarHirani) May 10, 2018
It won't be wrong to say that Hirani made the perfect choice by picking up Ranbir Kapoor as he stepped into Sanjay Dutt's shoes with perfection. The trailer has already proved his talent as the audience is loving Ranbir with all their hearts and on 29th June, the movie will solidify his brilliance as an actor.