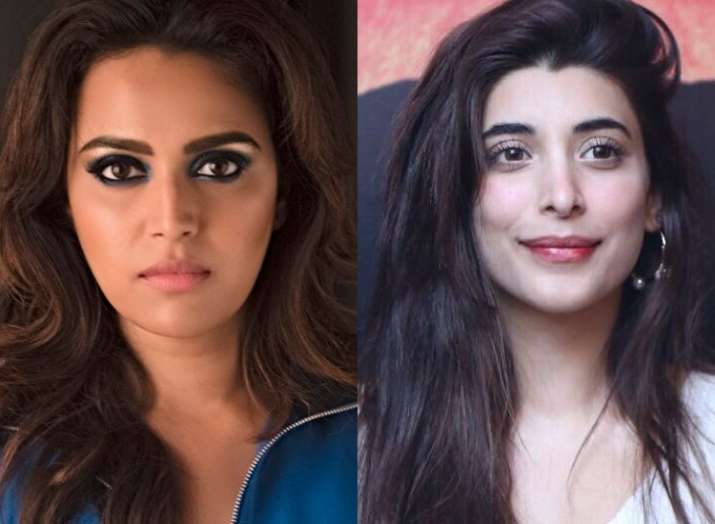 Swara Bhaskar is definitely the favourite child of controversies. The lady just doesn't know how to keep her feeling to herself which has landed her in many troubles in the past. This time Swara faces heat from Pakistani actress Urwa Hocane for calling Pakistan a 'failing state'.
While Swara is enjoying the success of her just-released film Veere Di Wedding that hit the screens on June 1, Swara had her strong opinions as to why the film was banned in the neighbouring country Pakistan. In a recent interview with CNN News18, film critic Rajeev Masand the actress was asked about the same to which she responded by calling the country a 'failing state'.
"For some reason, I have to keep answering for that. I don't know why people think I'm a spokesperson for the Pakistani government. What do you expect from a state that's run by Sharia Laws?," said Swara.
She further added, "They're a nonsecular state. I'm not surprised at all. Why should we hold up Pakistan, which is a failing state -- I don't understand why we keep taking pleasure and feeling a sense of self-worth from all the silly things that happen in Pakistan. Apologies to all my Pakistani friends right now... Rest assured, Pakistanis have way worse vocabulary than we do. I know."
This definitely didn't go down well with our neighbours. After hearing this, Pakistani actress Urwa Hocane decided to school her. The actress slammed Swara in a number treats calling her ignorance and flip-flopping statements. Urwa even signed the tweet saying 'From a phenomenal Pakistan.' She tweeted-
Pakistan is the country that you @ReallySwara referred to,in 2015, as the "Best country you have ever visited" and it has only gotten better in the last few years in every aspect along with when it comes to having bigger hearts and welcoming our guests . 1/3

— URWA HOCANE (@VJURWA) June 2, 2018
2/3 While you're on this spree of empowering women,i must say you've become a bitter person. And all of this is odd coming from a citizen of a state that bans their own films i.e. #Padmavat so let's not talk about women empowerment.

— URWA HOCANE (@VJURWA) June 2, 2018
3/3 This only reflects on u as an ignorant person who is also quiet contradictory in her own statements. It's not a failing state for sure but u come across as a "Failing Human Being" !!! @ReallySwara

From the citizen of the Phenomenal Pakistan 🇵🇰

— URWA HOCANE (@VJURWA) June 2, 2018
Adding to Swara's disadvantage, Twitter went crazy posting pictures from Swara's visit to Pakistan in 2015. In her interview, Swara expressed her joy about visiting Pakistan and how wonderful she felt there. She even said, "The amount of love we have received here. I have travelled to a lot of places, London, New York, Paris, Istanbul, they are all nothing compared to Lahore."
(Also read: Swara Bhasker trolled for a scene in Veere Di Wedding, the actress responds)
Look what Twitter has to say-
Need I say more ?! @ReallySwara pic.twitter.com/KvJm2swdCL

— URWA HOCANE (@VJURWA) June 2, 2018
Was really looking forward to Veere Di Wedding but really disappointed with what Swara Bhasker has said.
Trust me everyone here hated that the movie got banned.

— Mayhem ✨ (@mahamtopia) June 3, 2018
Can you take photos like these in-front of a mosque in a 'failed... nonsecular state .. run by shariah law'? Swara Bhasker? pic.twitter.com/dD0fFvsF3j

— SIR .. (@SirJohnRoe) June 2, 2018
I was going to watch #VeereDiWeeding but @ReallySwara's ignorant comments about Pakistan turned me off. You can't talk shit about a country & then apologize to your Pakistani fans and assume it makes everything better. @sonamakapoor cast smarter women next time #SwaraBhasker

— SidraS (@Sidra_a21) June 3, 2018
And the same Swara Bhasker came to Lahore once. She was interviewed by Mazaaq Raat and was overly excited to be in Lahore. Abb film release nahee hui tou yeh baatain. @ReallySwara who are you even?

— Farwa 🌸 (@farwaa_zaidi5) June 2, 2018
Here is Swara Bhaskar's interview-
Along with Swara, Veere Di Wedding also stars Kareena Kapoor Khan, Sonam Kapoor and Shikha Talsania.