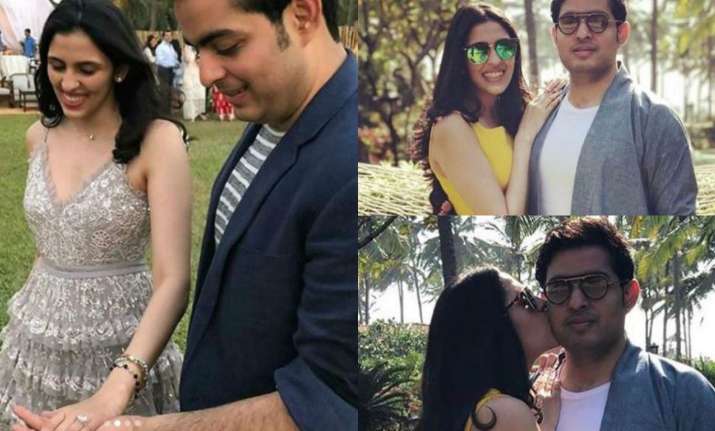 Putting end to speculations, Mukesh Ambani's eldest son Akash Ambani has finally proposed to his schoolmate Shloka Mehta, the youngest daughter of diamantaire Russell Mehta. Pictures doing rounds on social media suggests that it was an intimate affair in Goa where both the families gathered at a plush five-star resort for a get-to-know-each-other.
As per reports, formal engagement is to take place in July and marriage is scheduled to be held in early December. Possible dates may be December 8-12 with celebrations across 4-5 days at the Oberoi in Mumbai. In the pictures, we can see parents Mukesh and Nita Ambani and grandmother Kokilaben beside the lovely couple. Check out all the inside and unseen pictures below
Akash and Shloka studied together at Dhirubhai Ambani International School (DAIS). While Akash went to Brown University, a private Ivy League institution based in Rhode Island for further studies, Shloka studied anthropology at Princeton University and later completed her Masters in Law from the London School of Economics and Political Science.
Read More: Nita Ambani holds daughter-in-law Shloka Mehta's hand as the Ambanis visit Siddhivinayak temple
While Shloka is a director with Rosy Blue Foundation and co-founder of ConnectFor, an organisation that helps NGOs get volunteers for various causes, Akash is currently on the board of Reliance Jio.
For unversed, Russell Mehta is the son of Arunkumar Ramniklal M., one of the co-founders of B Arunkumar & Co., way back in 1960 in Opera House, Mumbai's hub of diamond business.