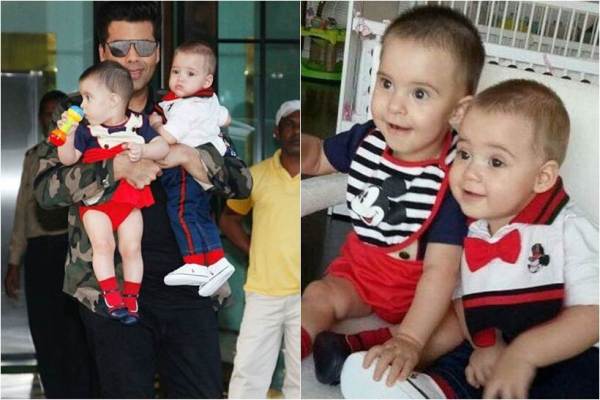 Filmmaker Karan Johar is on cloud nine today as his twin babies Yash and Roohi have turned a year older today.  On February 7, 2017, KJo welcomed his twins through surrogacy and since then the doting father has always been proud of his little munchkins. Today the little ones have completed a year and daddy dearest Karn Johar is leaving no stone untouched.  Marking Yash and Roohi's first birthday, the Ae Dil Hai Mushkil director took to social media to share a heartfelt message.
"I can't thank the universe enough for giving my mother and me the most beautiful gift ever….Happy Birthday Roohi and Yash….you are a blessing to us", Karan wised his kids along with an adorable picture of the duo.
When Yash and Roohi came into Karan's life, the filmmaker rejoiced the day and said, "I feel enormously blessed to be a parent to these pieces of my heart who were welcomed into this world with the help of the marvels of medical science."
Yash and Roohi were born premature kids and speaking about the same Karan wrote an open letter. "My children were born two months premature and worryingly underweight. Like any person in this situation and on the brink of fatherhood, my heart sank. Knowing that there were complications with my babies birth owing to how soon it was, I was terrified. All I wanted to do was hold them and protect them but they needed to be in the NICU. It was painful to see how tiny they were".
With Yash and Roohi in his life, Karan Joharwants to be "a better person."
"I don't want you to do what is expected just because I have a company and have built a legacy. I wish that I bring you up to become people who are fiercely independent in your choices, opinions and your individual lives. The legacy, if any, I want to pass on is the independence that I was given", the loving father said.
A very happy birthday to Yash and Roohi!
For more entertainment news and updates, follow our Facebook page