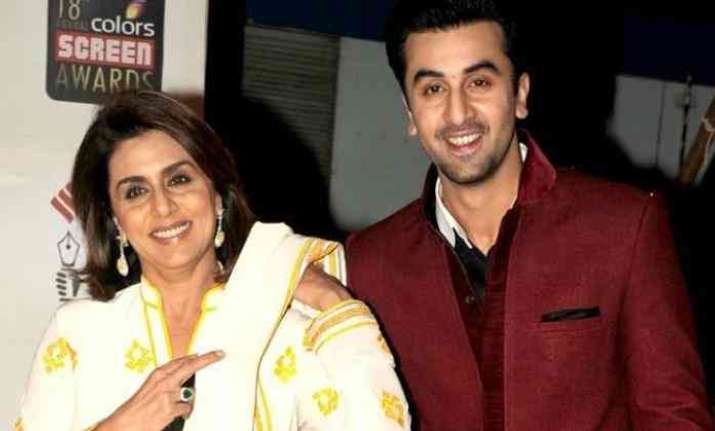 Ranbir is fresh out of the blockbuster success of his latest release Sanju. Besides his film, the actor is also hitting headlines for his brewing relationship with his Brahmastra co-star Alia Bhatt. Ranbir has also dated Katrina Kaif and Deepika Padukone in past. 
The Sanju actor is considered casanova of Bollywood but his mom Neetu Kapoor doesn't think so. The Jagga Jasoos actor has often confessed that he is mumma's boy and has no qualms about it. The yesteryear actress believes his son is too soft to hurt anybody. She also feels Ranbir can't approach a girl. In a throwback interview to Firstpost, which was published in 2011, the veteran actress opened up about RK and his relationship.
''He is too soft. He can't hurt anybody. It's the same with his relationships, he does not know how to say no, and gets into the deep end! I see it happening and can do nothing about it. The first time he felt involved, I knew the girl was not right for him. But when I told him, he rebelled. So I learnt to tackle it another way. I told him don't get serious so soon, the more you see the more you know and learn, so meet many girls, and go out with them , but don't commit yet. But I have learnt to not be an irritant. I say it once and move away. It works," she said.
She further added, ''I think he is charming, but he is very shy. I don't see him approaching a girl. It's they who make the first move, and he is too soft to say no, and gets involved. But he does confide in me, sometimes asks my advice. And I speak to him like a friend, and even try to get him out of an involvement if that is the best option."
Rumour has it mom Neetu Kapoor didn't approve of Ranbir's last two relationships with Deepika and Katrina respectively. While Deepika reportedly couldn't manage to impress Neetu, the veteran actress was unhappy with Ranbir moving in with Katrina. For unversed, Ranbir was in a live-in relationship with Katrina.
For all latest news, stay tuned our Facebook page