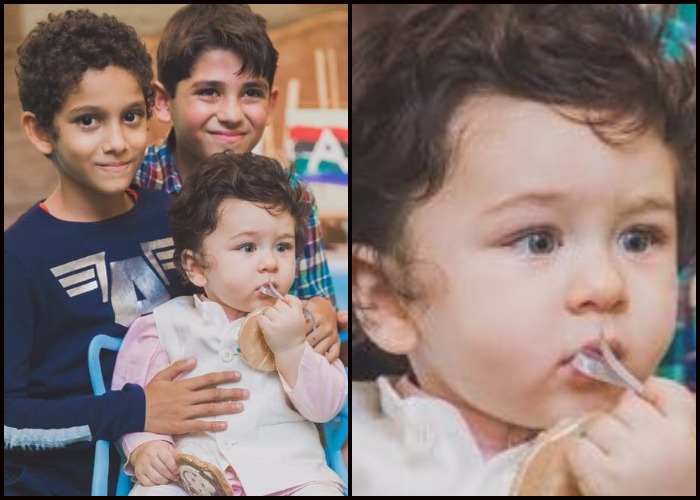 Today is Taimur Ali Khan's day. After all, this doe-eyed beauty is celebrating his first birthday today. We've already seen umpteen of picture from Pataudi Palace's celebrations, where the Khans and Kapoors have taken off to ring in Taimur's first birthday. The pictures are already taking the internet by storm. As if the pictures from the celebrations weren't enough, Kareena Kapoor Khan's close friend Amrita Arora shared an unseen picture of Taimur Ali Khan with her kids. In the picture, Taimur Ali Khan is looking away from the cameras, while his elder brothers are  trying to make him pose. Have a look.
Kareena Kapoor Khan's best friend Amrita Aroa, who has also joined the family to ring in Taimur's first birthday, shared this cutesy picture on her social media account. She wrote: "Happy birthday little Tot Baby Tai turns 1". Look at the donuts and sweets in baby Taimur's hands.
When Saif was asked if Taimur likes being clicked, he said, "You have to see how he looks at a camera. If you point your phone at him, he will look at you. It's just that way ever since he was born. I think he's gotten used to it."
In the picture, it looks like something else is getting baby Taimur's attention at the time he was being clicked. We're sure he's looking at his mommy Kareena Kapoor Khan.