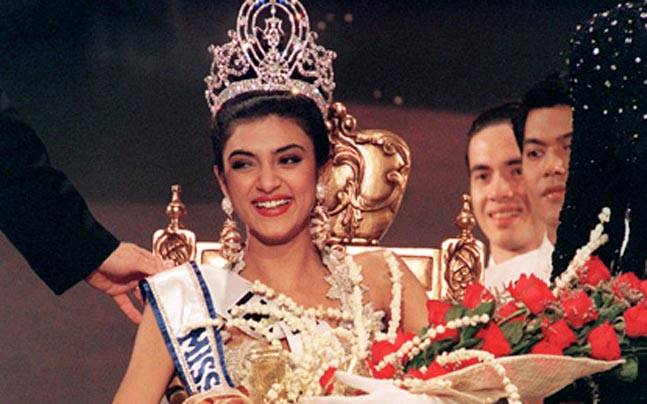 The beautiful and gorgeous mother of two daughters, Sushmita Sen was crowned Miss Universe title for India in Manila, Philippines on 21st May 1994. It's been 24 years since the Indian beauty bagged the prestigious title. The bong beauty was instantly hit among fans and won hearts with her unconventional sex appeal. Sushmita's win brought India into limelight and Center stage. And in a recent post, Sushmita gets nostalgic and reminisces her victory 24 years ago when she was just 18-years-old.
Taking to her Instagram account, Sushmita Sen shared a picture of herself and wrote alongside, "I was 18 yrs old when #India won Miss Universe for the very first time on 21st May 1994....I am 42 now, still a 'Miss' with a 'Universe' inside of me!!!! nothing has changed except the year's. Thank you guys for the letters, cards & gifts ..but mostly for 'Re-membering' the Universe is lovingly abundant & so what we give out, we get more of! I celebrate with you India & Philippines (my second home). Here's looking at you!!! I love you guys!"
Sushmita Sen is a timeless beauty and thanks to her stunning Instagram pictures, fans get to catch a glimpse of the former beauty queen.
Sushmita Sen recently said that to be born as a woman itself is a huge award. The actress who is very vocal on gender issues was interacting with the media at the I Am Woman Award 2018 ceremony.
After receiving an award, Sushmita said: "I think the fact that I am born as a woman itself is a huge award in my life. And then to have an organization like Karan Gupta Education Foundation which holds prestigious and inspiring awards for women and recognizing them from different field... is really amazing. They are pioneers and inspire women the way forward for generations. For them to give me an award, it just feels lovely because they have named it as 'I Am Woman' and I am a big believer of the concept of 'I Am' so, it's a lovely connect. I am very privileged and honoured that they thought of me."