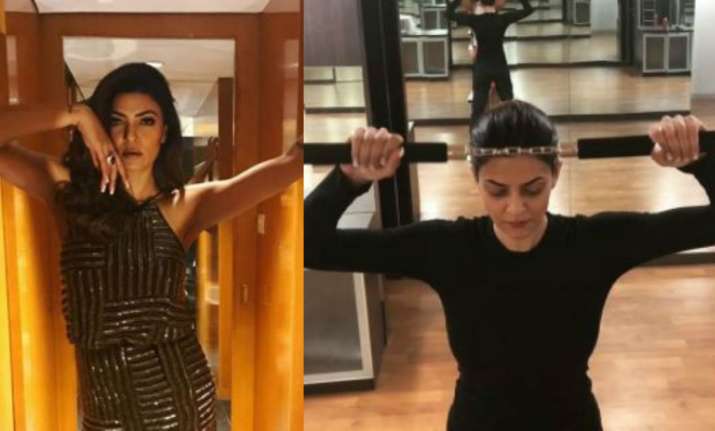 Sushmita Sen is defying age, hence proving us age is just numbers. Ex Miss Universe and Bollywood actress Sushmita who is a mother to two young girls turned 42 on November 19. The actress who leaves her fans every time in admiration with stunning pictures is embracing her ageing with style. She is so fit that she can give a tough competition to her contemporaries and newbies as well. Her dedication to health and fitness is something which inspires us deeply.
On the occasion of her 42nd birthday, wishes are pouring in from all corners. Even the new Miss World 2017, Manushi Chhillar took to Twitter to wish the actress, calling her an inspiration. Amidst all the fanfare, Sushmita gifted a unique present to herself, a discipline, nunchaku. It is a Japanese martial arts weapon consisting of two hardwood sticks joined by a chain. Sushmita is currently undergoing the training of the martial arts in order to stay fit. Sharing a video on Instagram, the actress wrote, ''OM NAMAH SHIVAYA!!!THIS IS IT!!!!This is the woman I wanted to meet at 42!!!delicate yet strong...still yet agile...experienced yet new to life...constantly learning all that her spirit desires!!  I begin my 42nd year with the ricochet of the #nunchaku A birthday gift to myself...a new discipline!!!! Thank you teacher @nupur_popeye for teaching me how to channelise #energy of the spirit that knows no limits!!!''
No wonder why she still looks so young. It is all because she never limits herself physically or mentally. The goddess of fab body enjoys her life to the fullest while consistently exploring new things which come to her way. Sushmita has also defied societal norms for women by adopting two girls and showing that marriage is not an important thing in life. It is all about choice. More power to you, Sushmita!
Get ready to be stunned with some of her glamorous pics