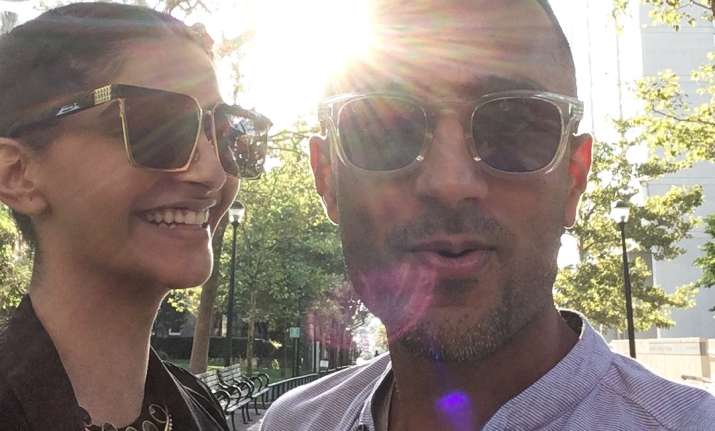 PadMan actress Sonam Kapoor, who has garnered critical acclaim for her role in the film, is feeling on the top of the world today. After all its Valentine's Day, the day of love. If you're living under a rock then you must know that the beautiful Bollywood actress is dating a man outside the industry. Yes, Sonam Kapoor is dating a Delhi-based businessman Anand Ahuja. Though the actress has never revealed her relationship status in public, but her frequent PDA's on Instagram reveal everything we want to know.
Valentine's Day is here and this gorgeous couple is already giving us some major relationship goals. On Wednesday, Sonam Kapoor shared a pictures of roses and lilies on her Instagram story and captioned it, "I'm the luckiest girl in the world!"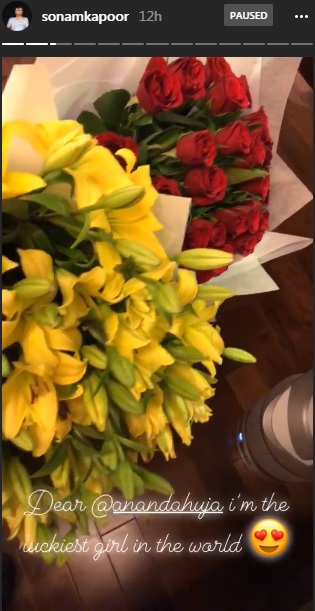 She even tagged Anand Ahuja in her post. She posted another enigmatic picture of a couple who are walking hand in hand on snow-covered land. Going by the silhouette, they are none other than Sonam and Anand itself. She captioned the picture, "Conquer the devils with a little thing called love." Bob Marley. Happy Valentine's Day. Everyone deserves to love and be loved."
Anand Ahuja also commented on the picture. He wrote, "There's love and there's fear. You can't have one when you have the other. I'll never have fear again because of you. @sonamkapoor"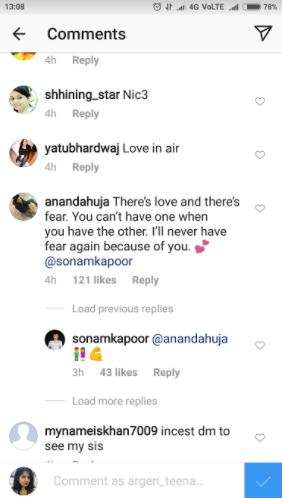 Sonam Kapoor has been tight-lipped about her relationship with Anand Ahuja. But her photos suggest otherwise. They even celebrated the New Year's Eve together and shared some mushy pictures on their social media.
Also Read: On Valentine's Day, Amitabh Bachchan shares a mushy picture with wife Jaya Bachchan (pic inside)
Rumours mills have been churning that the couple is soon going to tie the knot this year. According to the reports, the couple will get married in Rajasthan in April. Sonam going out with Anand Ahuja's mother shopping for jewellery, further fuelled the rumours.
Talking about her maintaining secret about her relationship, Sonam Kapoor told a leading daily, "Because that's in my control and I don't feel that I can speak about myself but I don't think it's okay for me to speak about somebody else. Now everything that is put out there is with his permission or whatever he puts out there is with my permission. But if somebody is asking me a question publicly I don't think it's okay for me to speak about the person because that person has not signed up for it. This is just keeping it a little sacred. Just keeping it in my control, whatever is out there is in my control, it's not something that is not. I just feel that it's not okay to talk about it. I will share whatever I have to share and that is with my filter."