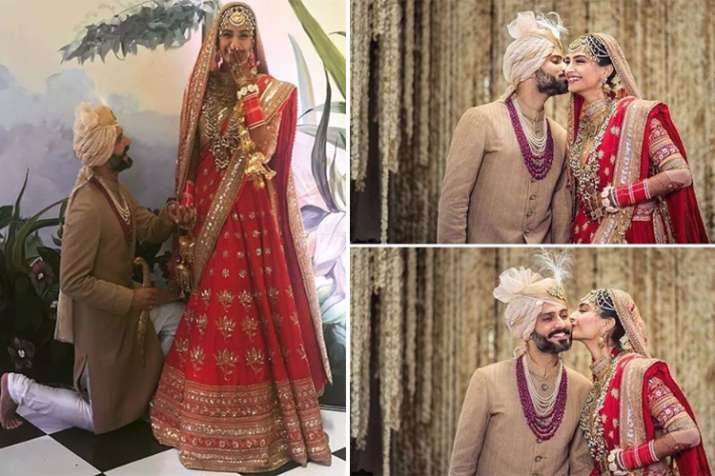 Sonam Kapoor and Anand Ahuja's wedding has been one of the most discussed topics of the year. Sonam tied the nuptial knot with her long-time beau Anand in a private ceremony on May 8. And soon after their wedding social media and fan pages were flooded with adorable pics of the newly-wed  couple Sonam and Anand.
Sonam and Anand's dreamy wedding was a starry extravaganza as it witnessed who's who of Bollywood at the gala night. Bollywood A-lister including Amitabh Bachchan, Aishwarya Rai Bachchan, Abhishek Bachchan, Salman Khan, Shah Rukh Khan, Ranveer Singh, Katrina Kaif, Kareena Kapoor Khan, Saif Ali Khan, Rani Mukerji, Alia Bhatt, Swara Bhaskar, Sanjay Kapoor, Karisma Kapoor and many others graced the event. 
Sonam's wedding was a traditional one and was done by Anand Karaj ceremony followed by grand post wedding reception. Bollywood celebs had a fun time at Sonam's post-wedding reception and showered their blessing to the newly-married couple. 
And Sonam thanked everyone for making her day special by their presence. ''Anand & I would like to thank everyone who made our wedding the most magical 2 days of our lives. We would like to take a moment to thank each and every one of you who made this day special & here's a few people who deserve a special mention: @ranipinklove for creating the perfect fairy tale wedding! @wedniksha I don't think we could have pulled this off without you! Thank you for pushing through and making this dream, reality. @jomalonelondon for creating the most beautiful atmosphere! @reelsandframes for capturing our most treasured memories and being our wedding photographers and to @signe_vilstrup @taras84@thehouseofpixels we can't wait for the stupendous pictures you took of Anand & I! A special shout out to @BellezaJewels@fizzygoblet @isharya @andmystories_infor creating beautiful mementos for my nearest and dearest @namratasoni @artinayar @bbhiral@alpakhimani @mallika_bhat@rohit_bhatkar for transforming Anand and me into the best versions of ourselves! @abujanisandeepkhosla@anamikakhanna.in @anuradhavakil@masabagupta @rajeshpratapsinghworks@jimmychoo you are all some of the most talented people I know & my wedding could never have been what it was without your inspired garments. Anand & I want to wear our wedding clothes everyday! @kapoor.sunita & @amrapalijewels for creating special pieces for Anand and I that will become heirlooms that we can pass on to our children! Special mention @vanimalhotra@chandiniw @manishamelwani@abhilashatd @marut_sikka @poojadhingra & @indianaccent you served up a storm Thank you to the brilliant team at the @theleela @theweddingbartenders for keeping guests in high spirits @anaitashroffadajania @priyanka86 & Divya @vogueindia you guys are so supportive @vandana_weddingplanner for helping with the rituals @ravishkapoorinvitations for fabulous invitations @media.raindrop for always being there. The Indian Media thank you for respecting our privacy & celebrating with us & covering us with such positivity & warmth Mumbai Police for all the support Dome Security you guys were on point at all times! Last but definitely not the least, I would like to thank my fans for all the love they have shown me over the last few days,'' wrote Sonam in her long thanks giving note.