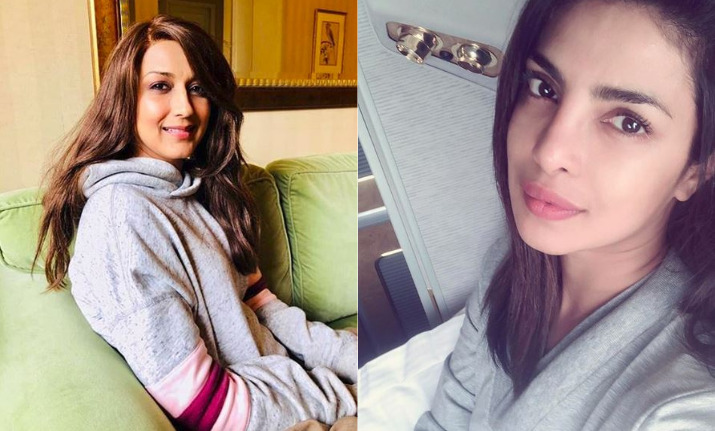 Bollywood actress Sonali Bendre is holding strong as she's battling life-threatening illness i.e cancer in New York. The actress is stationed in the US with her family to get best possible treatment for her cancer that has metastasised.  During her chemotherapy, Sonali Bendre lost her luscious mane to the chemical treatment, as most of the cancer patients do. However, the actress had no qualms flaunting her bald pictures on the social media, which is no less than inspirational for everyone who have lost their hair to an illness.
Last month, on Friendship Day, Sonali Bendre made most of her time with close pals Sussanne Khan and Gayatri Joshi in New York. It was the first she had shown up bald in the public and needless to say, she was looking pretty as always.
In the latest social media post, Sonali Bendre wrote at lengths about her desire to don a wig and the second thoughts she had in her mind while picking one for herself. No doubt she was holding her head high even when she had put her bald head to display, but she was struck with a little 'self-doubt' while trying out wigs.
She wrote, "When I was testing out the wigs, I had a brief moment of self-doubt... "Am I vain for wanting to look good?" As part of the entertainment industry, you're always expected to look good... Maybe that has been ingrained in me? But then I gave it a thought and I realized I like looking good for me. If I'm in the mood to wear a scarf, I will. If I want to walk around bald and free, I will."
Concluding her post, Sonali thanked Priyanka Chopra for introducing her to Bok-Hee Hair who designed a wig for her. She even shared the picture of herself wearing the new wig.
Sonali Bendre was diagnosed with high-grade cancer in July this year. She announced the news on her official Instagram account. Ever since then, the brave actress has been sharing personal accounts of her daily struggle with cancer.
Earlier, Sonali shared a picture with her son Ranveer and narrated how her 13-year-old is helping her cope the tragedy that struck her and her family.