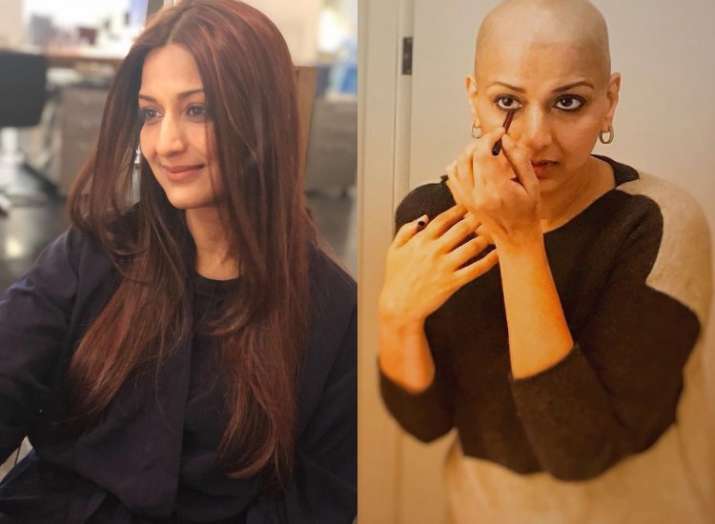 Bollywood diva Sonali Bendre's fight to the deadly disease cancer has been an open secret. The actress has not just boldly fought the most difficult days of her life but has made sure she become an inspiration for many through her positive attitude towards living her days. As 2018 comes to an end, Sonali Bendre shared another inspirational post on her Instagram and will make you revive her faith in life. 
Sonali shared a number of pictures and wrote, "Throwback to my last blow-dry before I cut my hair. Now that my hair is gradually growing back.... Maybe I can look forward to another blow-dry in 2019! This journey has been immense, and has taught me so so much.... From being in awe of the body's willingness and capacity to fight and heal and recover to overwhelming gratitude to the people who have stood by me and been pillars of strength to being reminded of life's transience and that things come and go (much like my hair). Here's looking towards a healthier and happier 2019. Onwards and upwards... #SwitchOnTheSunshine #OneDayAtATime"
On July 4, 2018, Sonali Bendre shocked everyone when she announced on social media that she has been diagnosed with the 'high-grade cancer that has metastasized'and is going to New York for her treatment. It was only recently that she returned to India after undergoing successful treatment and bounced back to her normal life in her country with her family and friends. 
On returning back, Sonali Bendre got busy with her book club and even started a new venture with her 12 year old son Ranveer. Earlier this month, through the post, Sonali announced that she is collaborating with her son for a book club. "As we come close to the end of another year, it's amazing to see how much this book club has grown and how I can see tangible effects. After my son hosted his first SBC Live, he's become more enthusiastic about reading, so much so that he has now recommended a book for us. So the next book for SBC is Half Brother. I'm really excited as it's the first mom-son collaboration on the book club, and I'm looking forward to exploring this book with you all! ''
More Bollywood stories and picture galleries
For all latest news and updates, stay tuned to our Facebook page