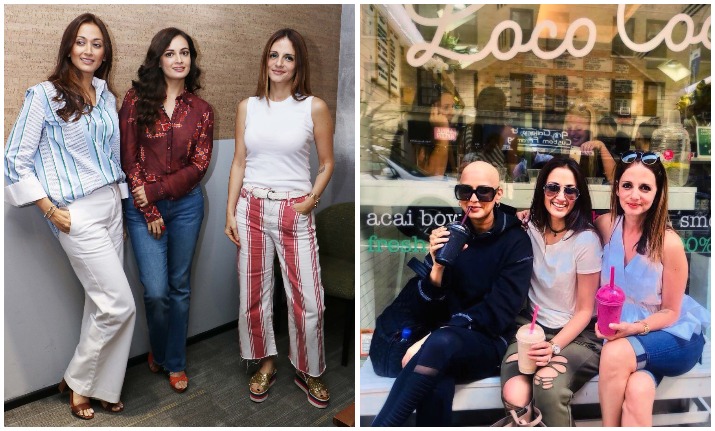 It's a tough phase for Bollywood actress Sonali Bendre whose life took an unprecedented turn last month when she was diagnosed with cancer. She took the world by shock wave when she announced that she was diagnosed with a high-grade cancer that has metastasised. Currently, the actress is in New York with her family to get herself treated. Meanwhile, her pillars of support, her besties including Sussane Khan, Dia Mirza and Gayatri Oberoi are standing tall for Sonali. Recently, the three ladies dropped by at Sonali Bendre's book blub and talked about their dearest friend through a Facebook LIVE session.
They caught up together at Sonali's Book Club to keep her love for books going. In fact, all of them share a common love for books and that's how they met each other and instantly hit off.
The Facebook LIVE was conducted through Sonali Bendre's Official Facebook page. In an interactive session, Sussanne, Dia and Gayatri talked at lengths about how they met Sonali and how they became friends for life. They also talked about how reading is important in everyone's life.
Sonali Bendre had a special message for her besties which was read out to them by the moderator conducting the session.
Sonali Bendre celebrated the Friendship Day with her besties Sussanne and Gayatri in New York. She even shared a picture along with a heart-melting note for her BFFs.
Sonali Bendre is an inspirational force for everyone who has battled or battling life-threatening illness in their life. She often shares her health update along with an elaborate account of her feelings in the caption.
Last month, she shared a picture with her son Ranveer with an important message for all the parents out there. She wrote, "I believe that it's imperative to keep kids involved in a situation like this. They are a lot more resilient than we give them credit for. It's important to spend time with them and include them, rather than make them wait on the side-lines, not being told yet instinctively knowing everything. In our effort to protect them from the pain and realities of life, we might end up doing the opposite. ."