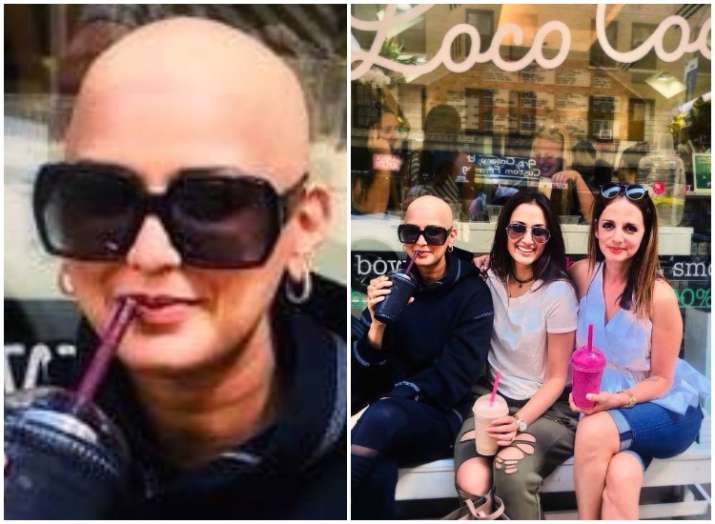 Bollywood actress Sonali Bendre, who is currently fighting cancer, has shared a new picture on Friendship Day 2018. Battling metastatic cancer, Sonali Bendre, who is in New York for her treatment, is finding positivity in her new look and says bald is beautiful. Sharing a photograph with her friend Sussanne Khan and Gayatri Oberoi, clicked by actor Hrithik Roshan, the veteran actress looks happy and comfortable in her new look.
"This is me. And in this moment, I am really happy. People give me strange looks when I say that now, but it's true and I'll tell you why. I am now paying attention to every moment, looking for every opportunity to find joy and switch on the sunshine'," Sonali captioned the image. 
She said there are "moments of pain and low energy".
"But I am doing what I like, spending time with people I love, and feeling very loved and happy. I am extremely grateful to my friends, my pillars of strength, who at a moment's notice, arrived to be with me and help me through this. In between their busy schedules they find time to visit, call, message, FaceTime... basically never leaving a moment for me to feel alone. 
"Thank you for showing me what true friendship is. Happy Friendship Day, ladies." 
On Thursday, Sonali Bendre's husband Goldie Behl expressed gratitude towards her fans and well-wishers for their love and support for his wife.
Thank you all for the love and support for Sonali... she is stable and is following her treatment without any complications. This is a long journey but we have begun positively.🙏

— goldie behl (@GOLDIEBEHL) August 2, 2018
In one of her recent pictures, Sonali Bendre sportsed a short bob cut and was simply dressed in a black top and blue jeans.
She expressed gratitude towards her well-wishers and thanked those who shared their survival stories or those of their loved ones. The actor added that the stories and love have given her immense strength and made her feel that she is not alone.
More on Sonali Bendre
Sonali Bendre's sister-in-law Shristi Behl Arya reveals she's staying strong with her cancer battle
Sonali Bendre shares an emotional post for son Ranveer, Hrithik Roshan calls him 'unique'