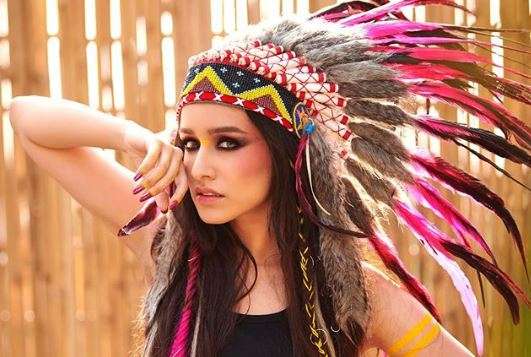 Bollywood actress Shraddha Kapoor was among 24 celebrities to feature on Dabboo Ratnani's 2019 calendar. The annual calendar launch, which is no less than a starry extravaganza is attended by who's who of the glamour world. Shraddha, for the photo shoot, wore Native American war bonnet and looked gorgeous in it. However, this didn't go down well with a self-proclaimed fashion watchdog page on Instagram, which goes by the name Diet Sabya.
The page accused Shraddha of cultural appropriation. For unversed, as per Google, cultural appropriation means, ''the unacknowledged or inappropriate adoption of the customs, practices, ideas, etc. of one people or society by members of another and typically more dominant people or society''. The page claimed that the headgear is considered sacred by indigenous people and non-Natives can't wear it. 
''According to our basic birthright source, Wikipedia, the wearing & displaying of such headdresses, and other 'indigenous traditional arts and sacred objects' by those who have not earned them — especially by non-Natives as fashion or costume — is considered extremely offensive by traditional Native people. The 'controversy' is part of a wider effort by Native American activists to highlight the ongoing cultural genocide against indigenous peoples (especially in the United States and Canada). The stupid trend of musicians and festival-goers wearing warbonnets across festivals has led to criticism by Native Americans, apologies by non-Natives, and the banning of headdresses as costumes by several big-league music festivals. We thought this was common knowledge. Yet, we are here, talking about it being appropriated by a celebrity calendar. @shraddhakapoor by @dabbooratnani for #dabbooratnanicalendar,'' the page wrote.
Since then, the actress has been receiving flak by a certain section of Instagram users. While some are asking her to take down the post, others are admiring her beauty.  ''Using a culture's sacred traditions and their clothing is not art or fashion, it is disrespect. Hope you consider taking this down,'' a comment read.
On the professional front, Shraddha will soon start shooting for Remo D'Souza's dance film, ABCD 3, co-starring Varun Dhawan, Aparshakti Khurana and Nora Fatehi. She will be seen as a Pakistani dancer in the flick, whereas Varun will be playing Punjabi munda in it. The actress has started preparing for her role. To get into the skin of her character, Shraddha is learning five dance forms. She is getting trained in Afro, Krump, Locking and Popping, Tutting and Animation and Urban from Prashant Shinde and Tania Toreo.