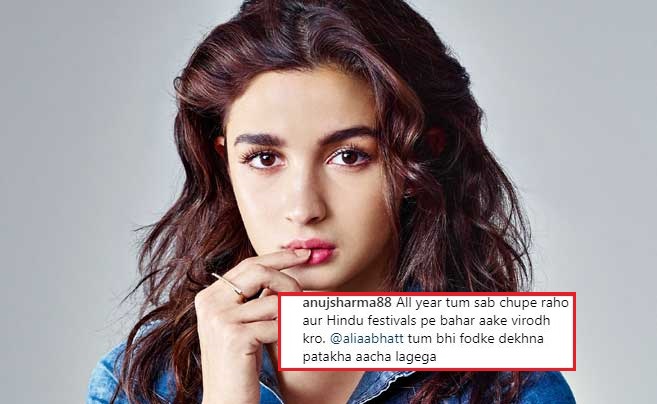 The social media trolls are just like the law of conservation of energy, they can neither be created nor destroyed; in fact, they just change their 'subject'. A few days ago, trolls found their subject in Shraddha Kapoor when she advocated an eco-friendly Diwali this year. And just a day later, the reckless trolls changed their course. They are now directed towards Alia Bhatt, who just like Shraddha Kapoor, requested people to have a noise-free Diwali. While we find nothing wrong in both the videos, it offended a lot of people who bashed the actresses recklessly. 
On Saturday, Alia Bhatt posted a video under social initiative 'Co-exist', in which she requested her fans to boycott firecrackers on Diwali. In no time, many Instagram users accused the actress to be a 'Bhakt' and slammed her for being insensitive towards Hindu festival. While only handful of people supported the cause, a majority of them bashed Alia Bhatt for being biased in her cause. 
Netizen trolled her for being selective in her cause

People even vouched to burn even more crackers this year

Is it wrong to advocate eco-friendly Diwali?

Alia Bhatt received all kinds of sick comments on video
Earlier, Shraddha Kapoor also posted a video on Instagram where she was mercilessly bashed for living a lavish life, spreading pollution and then advocating 'eco-friendly Diwali'. There's a massive outrage among people on Supreme Court's ban over firecrackers sale till 1st November. Although, Bollywood celebs are rooting for SC's move, not many are happy with this ban.