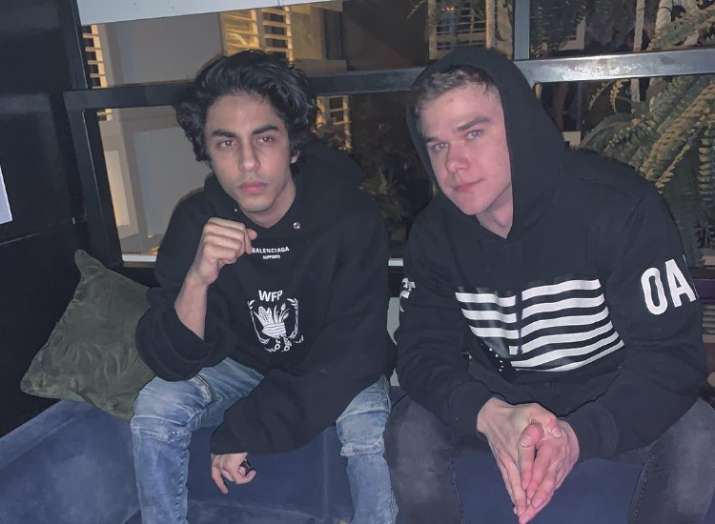 Bollywood superstar Shah Rukh Khan's son Aryan Khan is breaking the internet with his latest 'men in black' picture. There is no denying that the star kid enjoys a huge fanbase even before he has entered the world of cinema and fans have been waiting to see him on the big screen. While SRK has made it clear that Aryan is in no mood to star in films, every time he shares a picture on his social media, it goes viral.
This time again, Aryan Khan's picture made a lot of noise on the internet after he shared an Instagram post after so long. In the picture, Aryan is seen sitting with his friend and captioned it as 'MIB' i.e. Men In Black. The two boys look handsome as they twin in black hoodies and pose for the camera. Check out the picture here-
Not just Aryan but fans are waiting for the Bollywood debut of Shah Rukh Khan's daughter Suhana as well. The actor in an interview earlier revealed that Suhana will make her debut after she has learned about acting for three-four years. He told Mumbai Mirror while promoting his upcoming film Zero, "Neither Aryan nor Suhana have been groomed to be actors. She (Suhana) will go to an educational institute for three-four years to train in acting" after finishing school. "Gauri and I never told our kids that they have to grow up to be actors. People around would say handsome hai, tall hai, body achcha hai, but if looks were a criterion, I'd never have been an actor," Shah Rukh continued.
The actor added that he would offer his children all the advice he could, with his 30 years' worth of experience in the industry, but said that an actor should not be concerned about wearing nice clothes or driving nice cars. "If you want that then get into banking. It's safer," Shah Rukh said. This job is "about how happily, longingly, desperately and crazily you want to act."