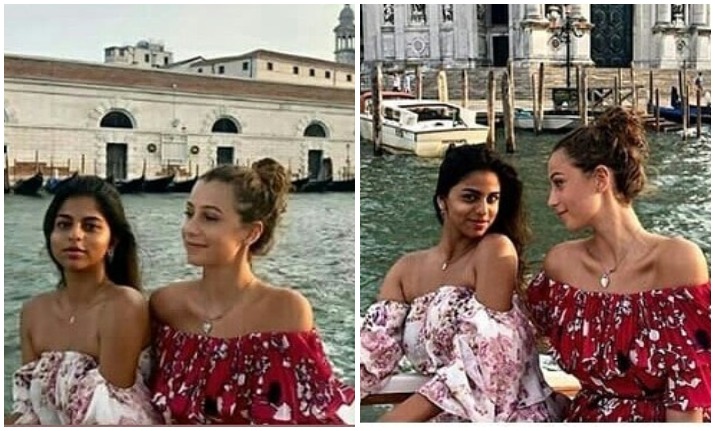 Shah Rukh Khan's little daughter Suhana Khan who is now grown up to become a beautiful young woman is already making the news. Studying in London, the 18-year-old is completing her education there but is often spotted in Mumbai spending quality time with her family and close friends. The media shy lady has recently made an appearance on Vogue Magazine's cover for August issue which stirred a controversy on social media. Nonetheless, cover went viral and became the talk of the town for whatsoever reasons.
Amidst the hullabaloo around the Vogue Magazine cover, Suhana Khan was spotted chilling with her girlfriends in Venice. The pictures of her Venetian holiday are going viral on the internet. In the pictures, Suhana is seen sitting on a boat in an off-shoulder flowery dress.
Meanwhile, while talking to Vogue, Suhana Khan opened up about vile internet trolls that targeted her recent magazine cover. She said, "I still find it hard because people feel like they can judge you. Especially on social media. Pictures from my private Instagram account get leaked. There are so many people talking about you. They don't know you, and they don't know what they're talking about, but they're just talking. And that can mess with your self-confidence. I keep telling myself that haters are going to hate, but I can't honestly say that I don't get upset by it. It's annoying, but I keep telling myself other people have bigger problems."
A recent report is also saying that Shah Rukh Khan is keen on launching his daughter in Bollywood.
As per the reports of Bollywood Hungama, Shah Rukh wants Suhana to be launched by some big filmmakers. As per the statement given by SRK's friend in the report, "His son Aryan is not yet inclined towards acting. But, daughter Suhana is definitely interested in an acting career. But, Shah Rukh wanted her to go through the grind. She has been doing theatre regularly. Now, both Shah Rukh and his wife Gauri feel Suhana is ready for a film career."