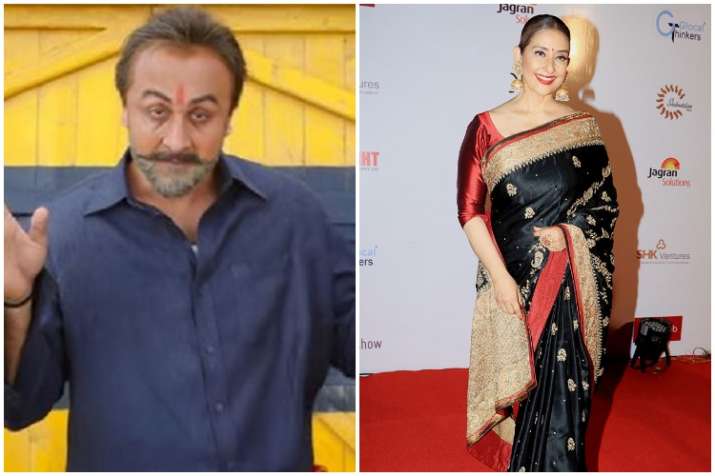 Actress Manisha Koirala, who will be seen essaying the role of late actress Nargis Dutt in Rajkumar Hirani's upcoming film Sanju, stated that she feels honoured to play the part.
Manisha interacted with the media on the sidelines of Yusuf Merchant's book "Happyness - Life Lessons From A Creative Addict" here on Saturday.
On being a part of "Sanju", Manisha said: "I am really honoured to have played Nargis Duttji in the film. It's like any actress' dream role. Though I have a very small role in the film... It's a special appearance, but I am really excited to know audience reaction about my role and the film."
Sanju, a biographical film based on the life of Sanjay Dutt, is directed and written by Rajkumar Hirani and produced by Vidhu Vinod Chopra.
The film stars Ranbir Kapoor as Sanjay Dutt in various stages of his life. It has an ensemble cast which includes Anushka Sharma, Sonam Kapoor, Paresh Rawal, Manisha Koirala, Jim Sarbh, Vicky Kaushal, Boman Irani, Dia Mirza and Karishma Tanna. The film is set to be released on June 29.
At the book reading session, Manisha said she was mentally disturbed at a certain point in her life but survived through it and came out stronger.
A cancer survivor, Manisha said: "Every individual goes through ups and downs in his life and I also experienced that. Earlier ... I wasn't prepared for it. Now also that phase comes, but now I know the tools of handling it. So, I can ride through smoothly in a tough phase.
"I think it is the most normal thing to feel sad or depressed, but in our society it is considered as taboo. Now, on social media platforms, people look so happy and perfect by posting their pictures and stuff, so if anyone is sad or depressed then they consider him as abnormal, but that is not the case.
"I think it's the most normal thing and in today's challenging time, the kind of stress level and anxiety we go through, I think it's the most common thing and it's good to accept that. Take help when you have an issue and people shouldn't be ashamed about it because today, everybody is going through that. Just find happiness in small things of life and be happy."
(With IANS Inputs)