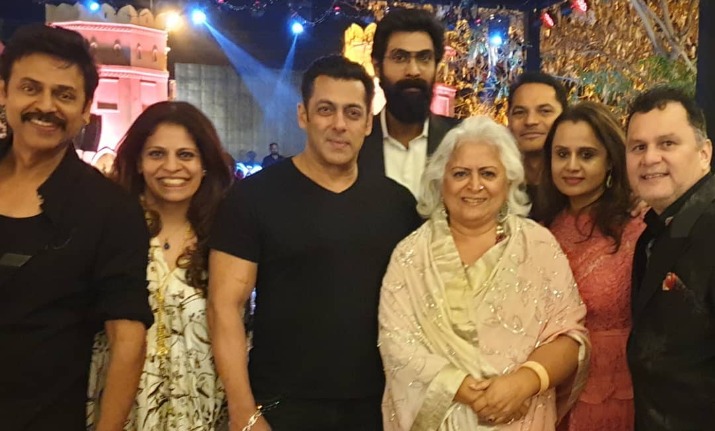 Salman Khan is extremely close to his Maine Pyaar Kyun Kiya co-star and politician Bina Kak. He is spotted with him often at his parties and birthday celebrations. Recently, the Bharat actor was spotted with Bina Kak at South Indian actor Venkatesh's daughter Aashritha Daggubati's wedding that took place in Jaipur. Baahubali actor Rana Daggubati also shared the frame with Bina Kak in the pictures shared by the latter. In one of the pictures, Bina posed with superstar Salman Khan and wrote: Congratulations Venky!
Salman Khan is good friends with Venkatesh, hence he attended his daughter's wedding. Many other celebrities from the film industry attended the wedding and pre-wedding functions.
Talking about the bride, Aashritha Daggubati got hitched to her boyfriend Vinayak Reddy. As per the report, she got engaged to Vinayak at her father's residence in Hyderabad in February this year. On the work front, she is a professional baker and runs an Instagram page called Infinity Platter.
Salman Khan recently returned from Dubai where he went for Da-Bangg Tour Reloaded with Katrina Kaif, Sonakshi Sinha and other Bollywood actors. The event got cancelled due to bad weather. He shared a video apologising to his fans that why he isn't performing in Dubai.
Salman Khan will be seen in Dhahran for Saudi Film Festival. In a panel called An Evening with the Stars, he will be talking about his journey in Bollywood as a film star and producer. Apart from him, Oscar-winning Gooding Jr will also be the panel guest at Sixth Saudi Film Festival in Dhahran.