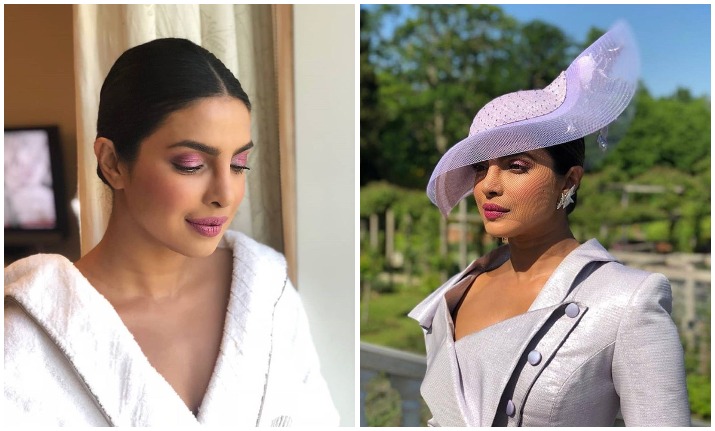 It's a big day not only for the people of the United Kingdom but for the entire world. The biggest wedding of the year is taking place Windsor Castle while you're reading this. Prince Harry is all set to walk Meghan Markle for the nuptials anytime soon. The groom arrived with brother Prince Williams while bride Meghan Markle is en route Windsor Castle with mother Doria Ragland. Her father, Thomas Markle will unfortunately not be able to attend his daughter's wedding as he underwent a heart surgery on Wednesday this week.
Many celebrities from the West were clicked at the wedding venue, including former footballer David Beckham and wife Victoria Beckham, tennis player Serena Williams with husband and newborn daughter, George Clooney with lawyer wife Amal Clooney. Apart from them, Quantico actress Priyanka Chopra also graced the wedding and her fashion choices are making all the noise on the social media. She arrived wearing a lavender Vivienne Westwood skirt and blazer combo. She paired it up with a classy hat. Priyanka has been friends with Meghan Markle for a few years. However, the actress is not on Meghan's bridesmaid list.
Twitterati can't keep calm as the pictures of Priyanka Chopra arriving the venue surfaced on social media. And we don't even blame them. The actress is looking royal herself, owing to her sartorial choices.  
SHES SO BEAUTIFUL THIS IS INSANE #ROYALWEDDING pic.twitter.com/AVOlZt4UkB

— jj | 85 (@IokiIogy) May 19, 2018
priyanka chopra came to serve. what a wow. pic.twitter.com/7D8xUkqSX9

— DanielléDASH GIFLord (@DanielleDASH) May 19, 2018
Twitter can't stop praising how amazing the Quantico actress looked as she was clicked at the Windsor Castle.
PRIYANKA CHOPRA IS HERE! SHE LOOKS AMAZING! #RoyalWedding pic.twitter.com/PrBNK5n3Bd

— badbrownandboujee (@whatisnisha) May 19, 2018
Okayyy you twooo😍😍
Abigail Spencer and Priyanka Chopra make a stylish entrance. #RoyalWedding pic.twitter.com/nRH7aGLpoT

— Lush Plans No. 1 Wedding App (@lushplans) May 19, 2018
Priyanka the heavenly beautiful Chopra #RoyalWedding 🌸🌌 pic.twitter.com/5Dhy36LB5K

— bride-to-be is glowing 🌸 (@yasiru_vismini) May 19, 2018
Beautiful @priyankachopra at #RoyalWedding pic.twitter.com/pTgumgQXLE

— PRIYANKA DAILY (@PriyankaDailyFC) May 19, 2018
SPOTTED : @priyankachopra is seated amomgst the elite crowd of David Beckham, Patrick J Adams, James Corden and others #RoyalWedding #PriyankaatRoyalWedding #PriyankaChopra pic.twitter.com/WdEsh0Zb5C

— ☀ (@savageslayerr) May 19, 2018
The actress made a right choice about her makeup. She sported minimal makeup however, her lips were tinted in magenta, complimenting perfectly with her dress.
Absolutely Stunning! #RoyalWedding #PCinLondon @priyankachopra pic.twitter.com/2aDPD3IYrw

— Team Priyanka Chopra (@TeamPriyanka) May 19, 2018
Priyanka Chopra arrived London in advance to attend the wedding. She was living within a 10-mile radius from the Windsor Castle, where the wedding is taking place right now. She even shared a picture on social media, confirming her presence at the wedding.