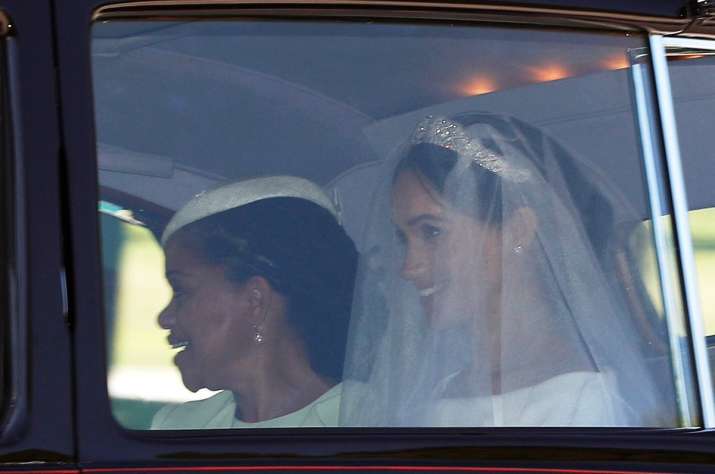 The most awaited Royal Wedding 2018 is taking place at the Windsor Castle right now. The time is here, when the TV actress Meghan Markle will be walking the aisle with Prince Harry at the Windsor Castle. The celebrities including the famous faces of the West have lined up at the venue to witness the biggest wedding of the year. Former footballer David Beckham and wife Victoria Beckham, Serena Williams, George Clooney and Amal Clooney, and also our beloved Bollywood actress Priyanka Chopra have arrived the venue.
WE SEE A TIARA. REPEAT. WE SEE A TIARA #RoyalWedding pic.twitter.com/PIHUchh0LF

— Common Girl 💅🏻 (@girlhoodposts) May 19, 2018
Prince Harry also arrived with Prince William by his side. 
Harry and William making their way down the aisle #RoyalWedding pic.twitter.com/IPSOqli8XY

— Royal Central (@RoyalCentral) May 19, 2018
#RoyalWedding I'm dying from smiles and happiness pic.twitter.com/CrAcnaizag

— βr£πdα (@mukisabrenda) May 19, 2018
Bride Meghan Markle is on her way with mother Doria Rangland to tie the knot with Prince Harry. They were staying at the nearby hotel Cilveden House before the wedding. The pair is being driven to the Windsor Castle in a well-waxed vintage Rolls Royce Phantom IV. As the beautiful bride was clicked on her way, she smiled through the white veil that adorned her. Apart from the veil, Meghan Markle was also wearing a diamond tiara.
Popular singer Elton John will be performing at one of the two receptions which will follow the wedding. All the lady guests are wearing hats while mostly men are dressed in suits or traditional morning coats.
Harry and Meghan's wedding rings are designed by Cleave and Company. Marle's ring has been made up of a piece of Welsh Gold, which was gifted by Her Majesty The Queen. Prince Harry's ring will be platinum band with a texture finish. Stay tuned with us for more Royal Wedding Live updates. 
What time is the Royal Wedding?
Prince Harry and Meghan's wedding is taking place at noon today, Saturday May 19 in St George's Chapel, Windsor Castle, where Harry was christened. The service began at 12pm, and you'll be able to follow the ceremony on TV, with several channels showing it.