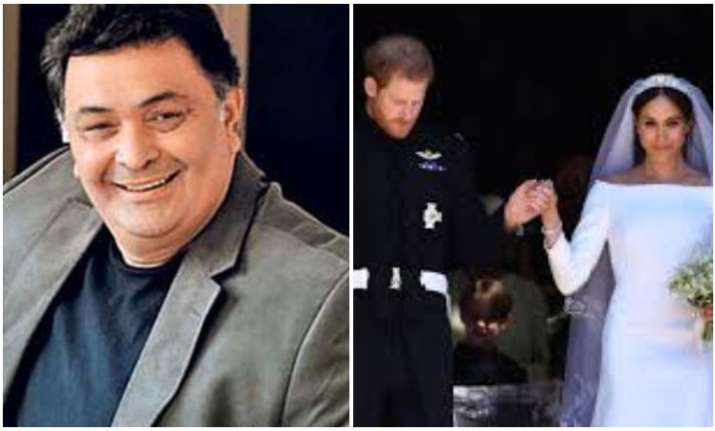 The Royal Wedding of Britain's Prince Harry with actress Meghan Markle got all attention on May 19. The couple exchanged wedding vows at St George's Chapel in iconic Windsor Castle and sealed their marriage with a kiss. The entire ceremony was live-streamed on various platforms and every detail was being talked about. Now, veteran actor Rishi Kapoor has shared a dubbed version of the royal wedding on social media, which has been making huge buzz all around.
The actor, who was last seen in 102 Not Out with Amitabh Bachchan shared a funny dubbed video of the Royal couple taking vows at Windsor Castle. The dubbed version is none other than Raj Kapoor's dialogue from 'Jis Desh Mein Ganga Behti Hai'.
Taking to his Twitter handle, Rishi Kapoor wrote, ""Dubbed version of the wedding ceremony for release only in India".
The dialogue has been picked up from Jis Desh Mein Ganga Behti Hai where Raj Kapoor has a cute, innocent marriage proposal for Padmini. Raj Kapoor says, "Shiv ji ki kirpa hui, to ek din fool sareekha chota sa ek lalla hoga mera Kammo ji! Aur uska naam main rakhunga Sri Ganga Parsad." When Padmini asks, "To?", he replies, "Kammo ji, aap mere us lalle ki ma banengi?"
Dubbed version of the wedding ceremony for release only in India. pic.twitter.com/rPvLrpFtAK

— Rishi Kapoor (@chintskap) May 20, 2018
Talking about working with Big B IN 102 Nout Out. Rishi Kapoor said, "He is such a pleasure to work with as he is a very disciplined actor. I would like to believe that I am a student of cinema and this time we connected after 27 years. This is our sixth film together. The way he flirts with his character and gets into the skin of it is commendable. He romances his characters and I have learnt that from him. He is also very modest and it's a delight to work with him".