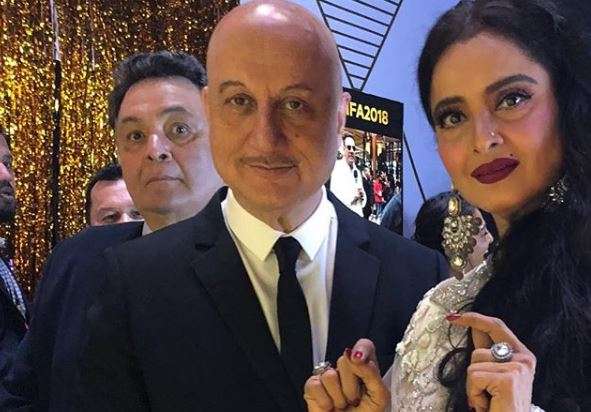 IIFA 2018 saw a bevy of Bollywood celebrities at Bangkok, Thailand. From young guns such as Kartik Aaryan, Ranbir Kapoor to veteran actors like Rekha and Rishi Kapoor, the gala event was flooded with stars. Pictures and videos from the carnival have already gone viral on social media.
Celebrities have also shared photos of their red carpet looks on their social media accounts. Veteran actor Anupam Kher took to Instagram to share a picture with Rekha and guess what, it also has Rishi Kapoor in it. The 102 Not Out actor photobombed Kher and Rekha while they posed together. Posting the picture, Kher wrote, ''It was a pleasure to meet legendary #Rekhaji at @iifa. But don't miss the Photobombing in an 'obvious' manner by veteran #RishiKapoor ji and in a little 'subtle' manner by wiz #AndreTimmins.#PhotoBonding #BackstageFun #GreatEvening #SupportiveRk #JoyOfCinema''.
Another picture of the stars is also doing the rounds in which the trio is seen pouting. Isn't it just adorable? It seems the critically acclaimed actors really had fun posing together. Check out the picture:
Earlier, in a biography of Rekha titled, Rekha: The Untold Story by Yasser Usman, it was stated that Anupam Kher called Rekha a 'national vamp'. His comment was attributed to an interview he gave to November 1990 issue of Stardust magazine. However, after the book was published, Kher called it rubbish and said that he had the greatest regard for the actress. ''Apparently, in a book about Rekha ji, some lines r attributed to me. It is all RUBBISH & NOT my language. I have the Greatest regard for her,'' he tweeted.
In case you haven't seen Rekha's IIFA 2018 performance, here you go:
Rekha stuns on IIFA 2018 stage, grooves to Salaam-e-Ishq. Watch video