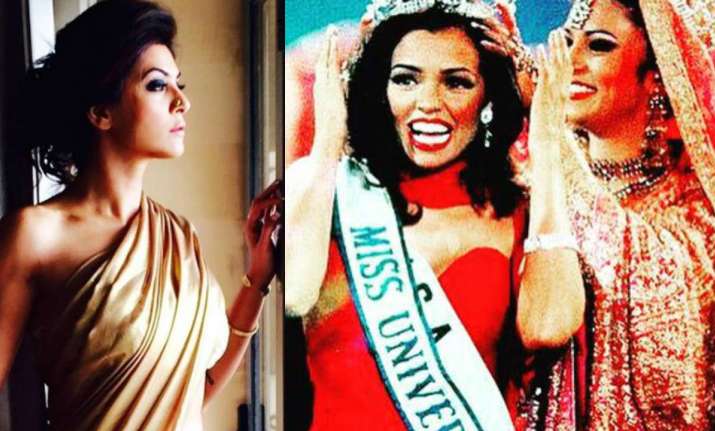 Bollywood actress Sushmita Sen, who was crowned Miss Universe in the year 1994, took to Twitter to mourn the death of Chelsi Smith. In a heartbreaking news, Chelsi Smith, the first and only Texan to win the Miss Universe crown, passed away after a year-long battle with liver cancer at the age of 45.
Sushmita tweeted: "I loved her smile and that generous spirit. Rest in peace my beautiful friend, Chelsi Smith. Miss Universe 1995." Along with the post, Sushmita posted a photograph which captures the moment the Indian beauty had passed her crown to Smith.
I loved her smile & that generous spirit!!! Rest in peace my beautiful friend @Chelsi_Smith #MissUniverse1995 Dugga Dugga 🙏 pic.twitter.com/rm63b98Q72

— sushmita sen (@thesushmitasen) September 9, 2018
Shanna Moakler also mourned the loss of her friend. Shanna was the runner up in the 1995 pageant. "I am heartbroken. Godspeed beautiful. You were my friend and a light. I love and will miss you more then you will never know. The epitome of a Queen," she posted on Twitter. Chelsi Smith competed in Miss Texas in 1994. She became the first biracial woman to win the pageant. Smith was the semifinalist at the competition. Chelsi Smith then competed at Miss Galvenston County US Pageant and won the title.
Heartbreaking to learn former Miss Texas USA, Miss USA and Miss Universe 1995, Chelsi Smith has passed away. She inspired my journey to #MissUSA and was a wonderful woman and friend. #MissTXUSA #MissUSA pic.twitter.com/jewIFrcdK8

— Lina de Florias (@linadeflorias) September 8, 2018
In 1995, Chelsi Smith traveled to Namibia for the Miss Universe Pageant where she became the first competition from the United States in 15 years.
For those who aren't aware, Chelsi had competed in her first major beauty contest in 1994, wherein she was the semifinalist in the Miss Texas USA Pageant. She then competed again as Miss Galveston County USA and won the title. Chelsi also starred in several television shows.