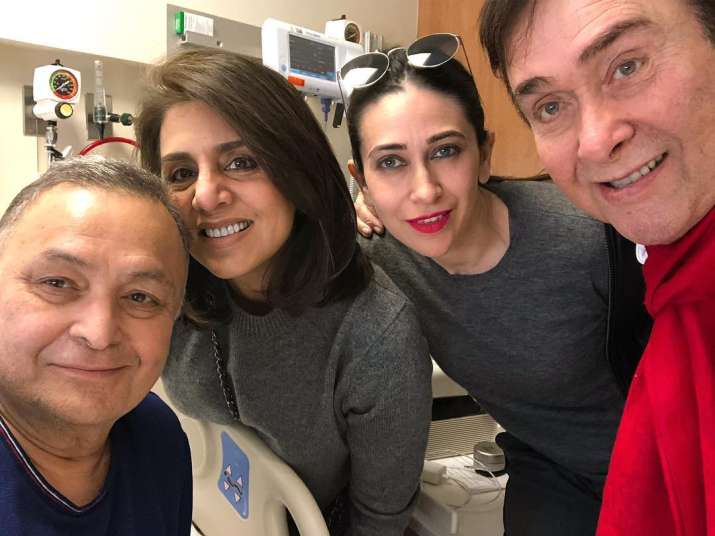 Rishi Kapoor has been staying in New York for the past few months. The actor is suffering from an illness about which he has not revealed much among his fans. Rishi Kapoor is planning to stay in New York for some more time and there are no reports of the actor and his wife returning to India. While he stays away from his home in India, many of his close friends and family members have paid him visit. The recent ones to visit him in the US are Randhir Kapoor and her daughter Karisma Kapoor. The veteran actor was spotted leaving for the US a couple of days ago.
On Tuesday, Neetu Kapoor shared a picture on her Instagram with Rishi Kapoor, Randhir Kapoor and Karisma Kapoor in the frame. She wrote: The bestest brothers ever. their conversation is only food though  
Recently, there were reports that Ranbir Kapoor is planning to move to New York with his girlfriend Alia Bhatt. Neetu Kapoor has already started looking for properties in New York for her son and his girlfriend.
Many Bollywood actors including Shah Rukh Khan, Aamir Khan, Priyanka Chopra, Anupam Kher, Sonali Bendre and others have visited Rishi Kapoor in New York.
Talking about Rishi Kapoor's illness, nothing has been revealed about it yet. In the pictures shared by his wife Neetu Kapoor on the social media, Rishi Kapoor's hair has sparked cancer speculations. However, later the veteran actress confirmed that his hairstyle was because of a film he was doing.