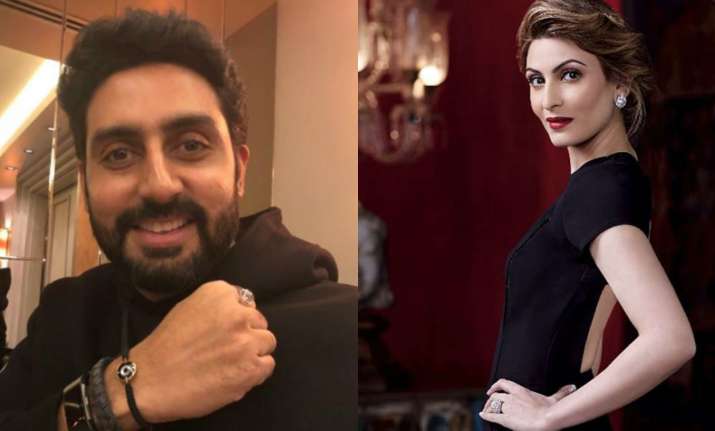 Bollywood actors Ranbir Kapoor and Abhishek Bachchan are fond of each other and their candid pictures from the celebrity charity football events are proofs of their brewing friendship. The two have often been snapped together and their common love for football unites them. But few know that Ranbir's jewellery designer sister Riddhima Kapoor Sahni is also a close friend of Junior B. That's why when she came to know about Abhishek's fondness for Ranbir's bracelet, she created one for him. 
Actually, when Riddhima found that Abhishek liked the evil eye bracelet that Ranbir sports, she instantly crafted another one for him. A source told mid-day, ''Ranbir and Abhishek are buddies. They look out for each other on the football field. In the past, Abhishek had revealed that he liked an evil-eye bracelet that Ranbir wears. Since Riddhima specialises in designing signature jewellery for men and women, she crafted one for him.'' Sharing the picture of Abhishek wearing the bracelet on her Instagram, Riddhima wrote, ''The very charming & our absolute favourite @bachchan sporting our signature black evil eye bracelet for men #grateful #rjewellery #riddhimakapoorsahnijewellery.''
Riddhima who created the jewellery with thread enamel and gold confirmed the news. She said that Abhishek is the most kindest and humble person she has met. Earlier, she has also crafted a bracelet for Justin Bieber and a pair of gold earrings for Goldie Hawn.
On professional front, Abhishek will next be seen in Anurag Kashyap's Manmarziyan, co-starring Taapsee Pannu and Vicky Kaushal. Ranbir, on the other hand, is busy shooting for his two ambitious projects- Brahmastra and an untitled biopic on Sanjay Dutt.
Keep watching our Facebook page for all updates