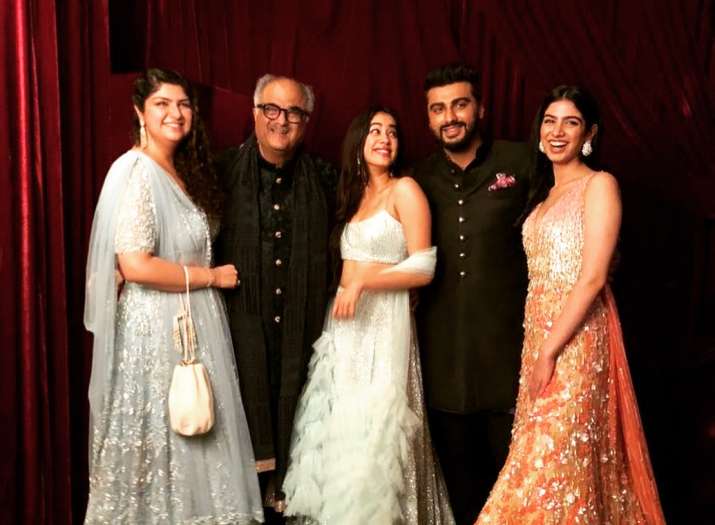 Just a day is left for Raksha Bandhan and Bollywood actor Arjun Kapoor is already brimming with love for his sisters. The beloved brother of three sisters, Arjun is showering love for his sisters on Instagram two days before the Raksha Bandhan. On Friday, he shared the picture from Lakme Fashion Week which was attended by all of his three sisters Anshula Kapoor, Janhvi Kapoor and Khushi Kapoor.
Arjun recently took to his Instagram account and posted a picture of his sister Janhvi Kapoor, as she recently made her ramp debut at the Lakme Fashion Week. She turned showstopper for designer Nachiket Barve and stunned in a pink and purple lehenga with intricate embroidery. She carried off the outfit with elan and made a confident debut on the ramp.
He captioned the post, "Janhvi's expression when she's pretending she likes working out over eating. Clearly, its the Raksha Bandhan weekend, vibe being strong on my timeline today."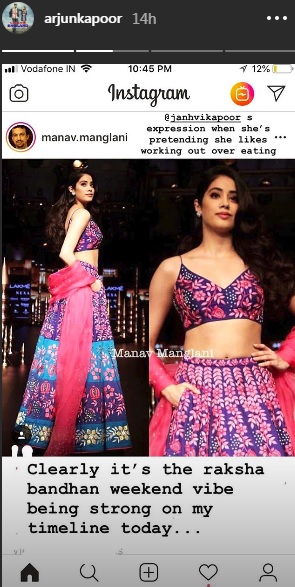 To support Jahnvi, sisters Khushi Kapoor and Anshula Kapoor also attended the fashion show. Anshula and Khushi posed for photos for the media on the red carpet. Arjun posted pictures of the two, writing, "The real showstoppers !!! Umm, pls, move aside @sonamkapoor @rheakapoor @harshvardhankapoor @janhvikapoor @mohitmarwah @shanayakapoor02 our family has 2 new fashion rebels in town !!! #kapoorsgotspeedandswag #thelmaandlouiseoffashion #fashionkajalwa #changingatlighteningspeed
​P.S - I'm jealous & proud of the quick double change !!!"
He also shared a photo of Sonam Kapoor walking out of a store, writing, "While in Juhu Scheme, Sonam Kapoor just having a normal day."
"At this point, Rhea and Shanaya need to ASAP get clicked so my Raksha Bandhan weekend can kick off full swing with aplomb and heavy duty posting of sista love," read his last Instagram story.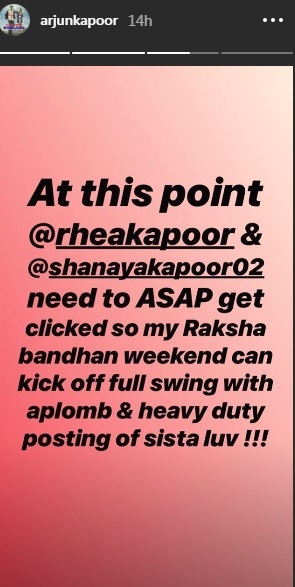 Arjun is one lucky man, given the long list of sisters he has, Anshula Kapoor, Janhvi Kapoor, Rhea Kapoor, Sonam Kapoor and Khushi Kapoor; there is a lot of lady luck at the actor's side. Also, the siblings have never failed to support each other, both emotionally and in their careers too!
(With ANI Inputs)