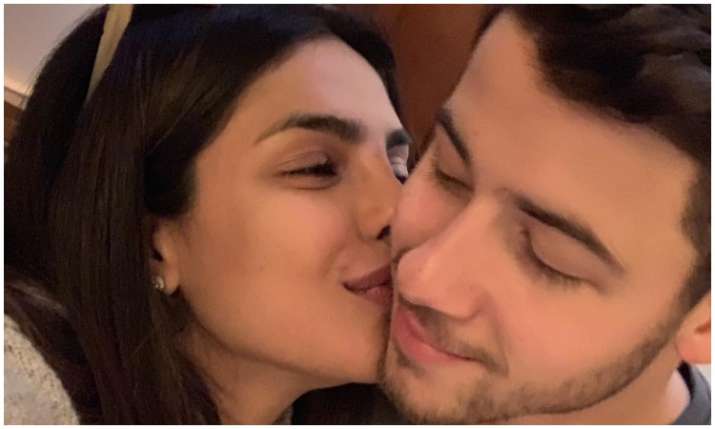 American singer Nick Jonas has been named GQ magazine's Most Stylish Man of 2018. On Friday, the magazine announced that the 26-year-old singer and newlywed won this year's title after beating out 64 other stylish men in a vote from fans. Unveiling Jonas as the winner, the magazine wrote, "Nick Jonas taking the whole showdown is a surprise, but not because of the man's style. Jonas is an under-the-radar menswear head — the kind who knows what to wear where."
Now, proud wife Priyanka Chopra shared an adorable photo, in which she can be seen planting a kiss on her husband's cheek, and also an even more adorable caption that says: "Honoured to be kissing the most stylish man on the planet... may the style Gods always shine down upon you, my love!"
Meanwhile, Nick Jonas also expressed his love for fans and wrote how big this achievement is. He posted a picture from his childhood and wrote, "From back then to now. I've been focused on one thing, and one thing only… being stylish. Not just stylish… being the MOST stylish, and even though it took over 26 years I'm really happy to finally be recognized for this tireless commitment to being stylish. @gq thank you… and you're welcome. To my stylist @avoyermagyanthank you… and you're welcome. To all my fellow nominees… keep up the good work. May the style gods be ever in your favor next year. To the fans all over the world who voted for me please know I don't take this honor lightly. I will wear this stylish crown with pride in my heart, all while in my well tailored "fits". Happy holidays everyone, and above all… Stay stylish. #style #stylish #gqmoststylishman #gq"
Priyanka Chopra and Nick Jonas, who just hosted their third wedding reception in Mumbai, are reportedly set to throw a lavish reception in Los Angeles in the last week of January for her Hollywood friends.