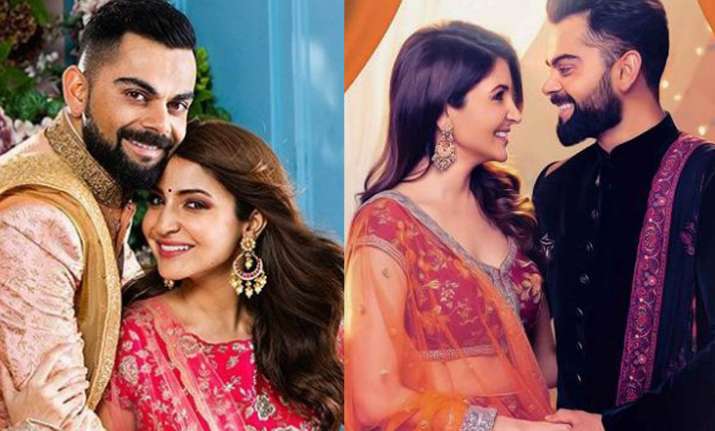 Bollywood actress Anushka Sharma and India cricket captain Virat Kohli's discreet marriage had come as a shocker to many. Virushka, as they are fondly called, got hitched in a private wedding ceremony in Italy, surrounded by close friends and family members only. It's already been a year since their wedding and they are still setting love goals for us all. In spite of having such busy schedules, the couple sees to it that they make time for each other. Even their social media PDA posts scream of eternal romance.
In an interview with The Times of India, when Anushka was asked how life has changed post marriage, the actress reiterated, "Life hasn't changed. I was working till two days before I got married. It's been a hectic year for me. When you are two individuals who are really busy and accomplishing a lot in your respective lives, your marriage is as normal as normal can be. That's how it is for everybody." 
On constant speculation on her pregnancy, she said that it was "dhakianusi" (regressive) that people should think that way. "Just because you are married, it doesn't' mean that the next step is to go the family way." Besides, pregnancy wasn't something one could hide and if after four months (from when such rumours begin), people know and feel silly, she said.
Also Read: Anushka Sharma, Virat Kohli share heart-melting photos, videos on first wedding anniversary
Talking about starting the trend of marriages in Bollywood, Anushka stated that she was very happy with her wedding as in terms of commitment, Virushka were already there.
Anushka shared that the couple wanted a wedding as if it were happening in their own home and that they are glad to have done just that. While she was shooting for Zero is when Anushka was also planning her wedding. When TOI asked Anushka if she feels Virat has a future in acting, the blushing wife quipped, "That's something you should ask him."
Meanwhile, Anushka will next be seen in Zero which is slated to release on December 21, 2018.