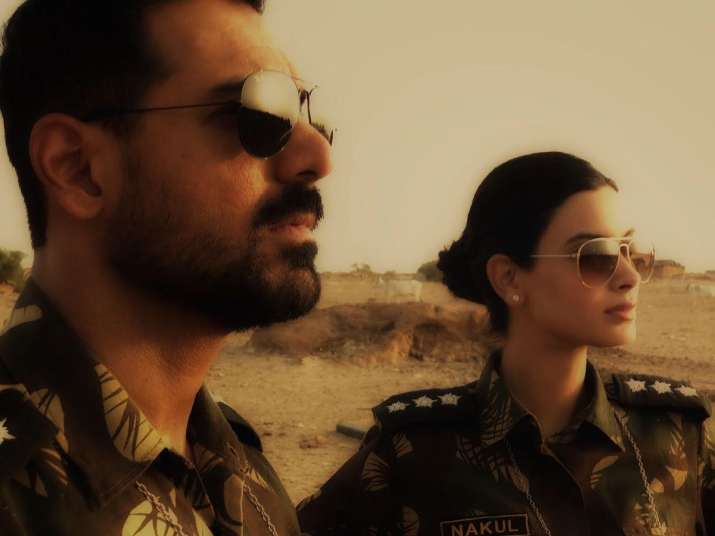 After the legal tussle, John Abraham's film inspired by India's first nuclear mission- Parmanu-The Story of Pokhran has hit theatres today. Co-starring Boman Irani and Diana Penty, John is playing the role of an army officer in the film. The trailer of Parmanu was released on May 11, which also coincided with the 20th anniversary of India's nuclear test explosions at Pokhran.
Abhishek Sharma's Parmanu promises to an intriguing thriller taking us back to the historic time when India entered the nuclear club. The operation was covertly carried out by the government of Atal Bihari Vajpayee and it was not well received by super nations like US. India conducted two nuclear tests from May 11 to May 13 and the project was called Smiling Buddha.
In a conversation with a leading daily, John Abraham narrated how hard it was for him and his team to convert this inspiring story into a film. He said, "What is important to me is that I pick up a subject that is non-formula. If I were to tell you that the villain in Parmanu is a satellite, you might just get surprised. Now when you think about it, it automatically becomes a tough subject to make. How do you cater to an audience that's used to thali and normal food and then serve them sushi. How do you make sushi tasty so that they enjoy it. That's why Parmanu happened and that's why we developed it in-house."
A special screening was held by makers of Parmanu, which was attended by many Bollywood celebs. ''Really enjoyed #Parmanu. The sheer audacity of what we as a nation achieved and the heroes that did it…. This story had to be told! So happy and proud of my brother @TheJohnAbraham well done to the entire team, Sharmaji, @DianaPenty and the rest of the wonderful cast and crew,'' wrote Abhishek Bachchan, while Karan Johar wrote, ''Saw #parmanu !!! A riveting and arousing film....this true story kept me glued to my seat towards the end! Watch out for the nail biting climax of this immensely patriotic true story!!!! Congratulations @TheJohnAbraham and team #Parmanu #abhisheksharma''.
So before you book tickets, have a look at what celebrities have to say about the Parmanu. 
Really enjoyed #Parmanu. The sheer audacity of what we as a nation achieved and the heroes that did it…. This story had to be told! So happy and proud of my brother @TheJohnAbraham well done to the entire team, Sharmaji, @DianaPenty and the rest of the wonderful cast and crew.👍

— Abhishek Bachchan (@juniorbachchan) May 24, 2018
Saw #parmanu !!! A riveting and arousing film....this true story kept me glued to my seat towards the end! Watch out for the nail biting climax of this immensely patriotic true story!!!! Congratulations @TheJohnAbraham and team #Parmanu #abhisheksharma

— Karan Johar (@karanjohar) May 20, 2018
Just watched the most amazing film @TheJohnAbraham has produced. A story that just had to be told.#PARMANU is the proudest moment which will explode inside every Indian heart. pic.twitter.com/OISYr47jXW

— Harshvardhan Rane (@harsha_actor) May 24, 2018
All the best @DianaPenty @TheJohnAbraham #AbhishekSharma & team #Parmanu .. hearing really good things about the film .. wish you a big success. Big hug.

— Farhan Akhtar (@FarOutAkhtar) May 24, 2018
#OneWordReview...#Parmanu: O-U-T-S-T-A-N-D-I-N-G.
Rating: ⭐️⭐️⭐️⭐️
One of the best films to come out of the Hindi film industry... The film is gripping in its entirety, but the climax takes the film to another level... Deserves a standing ovation... DON'T MISS IT!

— taran adarsh (@taran_adarsh) May 24, 2018
#Parmanu wat a mind blowing film !!! 👏👏👏Loved it @SaiwynQ take a bow ur unstoppable & unique writer who gives us amazing stories to watch each time👏👌autograph plz ✍️?hehe now write a story for me soon 😁😉Super proud of u my Friend👌picture toh HIT hai ⭐️⭐️⭐️⭐️⭐️ pic.twitter.com/lZlkIZu3mF

— RAAI LAXMI (@iamlakshmirai) May 24, 2018
For all latest news, keep checking our Facebook page