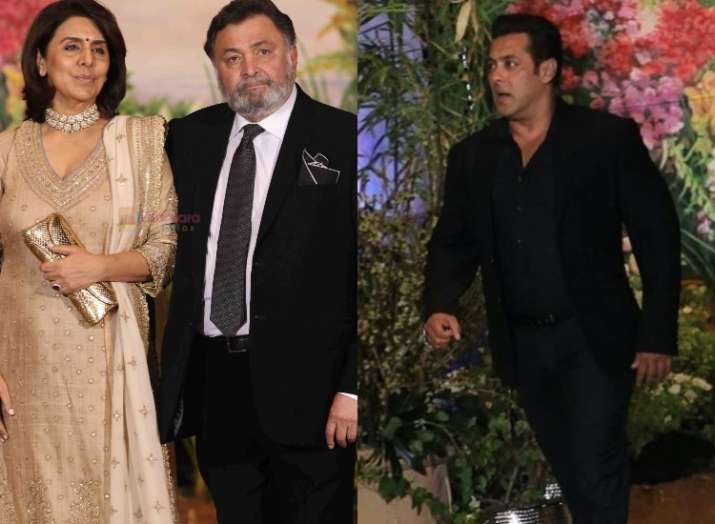 Sonam Kapoor and Anand Ahuja's grand wedding may be over but the internet is still not over with the crazy dance videos of the Bollywood celebrities from the wedding reception. And like every other big event in Bollywood, this wedding also had its share of controversial moments. When we talk about controversy in Bollywood, undoubtedly Rishi Kapoor is one of the names that pops into our heads.
Reports say that along with Dabangg Khan, Salman Khan's family, the Kapoor Khandaan, Rishi Kapoor and Neetu Kapoor also made an appearance at the reception but left the event not in good spirits. As reported by Bollywoodlife, Rishi Kapoor allegedly misbehaved with Seema Khan, Sohail Khan's wife at Sonam Kapoor's wedding reception.
After the incident, Rishi Kapoor's wife took it on her to apologise to Sohail Khan for Mr Kapoor's 'behaviour'. It is learned that Rishi was apparently upset that Salman Khan didn't greet him properly when they met at the party so he took it out on Seema Khan. The whole Khan family was upset with the incident.
Reports also had it that Seema didn't take Rishi's behaviour well and blurted out everything to Salman who lost it then. Mr Khan went looking for the senior actor but Rishi Kapoor had left the party by then.
This is not the first time that Rishi Kapoor has made headlines. In fact, in a recent report, wife Neetu Kapoor claimed that Rishi Kapoor is quite a bully however son Ranbir Kapoor is very down to earth. We hope that after this apology, Khan family is back to friendly terms with the Kapoors.