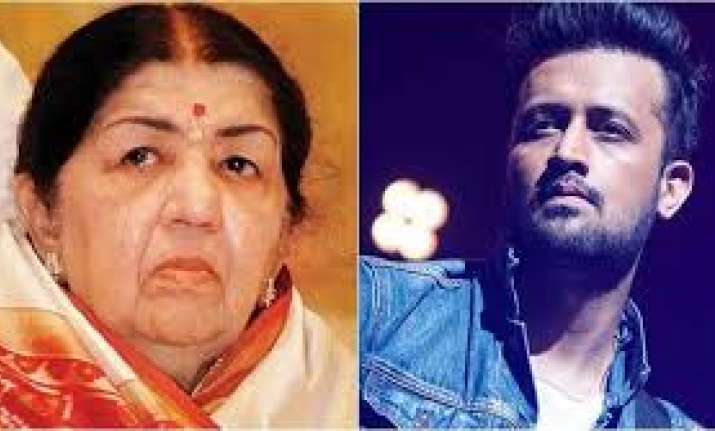 India's legendary musician Lata Mangeshkar has taken a hit at Pakistani icon Atif Aslam's rendition of her mellow track 'Chalte Chalte' from the classic 'Pakeezah. In the recent past, the Pakistani singer has lent his vocals to produce a new version of the classic song for an upcoming Bollywood movie Mitron. However, the upbeat duplication hasn't received ample appreciation from music enthusiasts including Mangeshkar, -the singer of the original track, who till now has refrained from listening to the new version.
It takes the delicate notes of the original tune, wrenches them out of context and leaves us with a spill-over version of the original which no one can identify as the memorabilia from "Pakeezah", except those responsible for this duplication.
And the composition is credited to Tanishk Bagchi.
Lata Mangeshkar, the living legend who sang the song in "Pakeezah" to immortality, has luckily not heard Atif's version.
"And I don't want to hear it. This trend of remixing old songs saddens me. Where is the creativity in simply lifting acknowledged, beloved classics and shuffling the notes around? I've even heard that the lyrics are changed in the remixes. By whose consent?
"The original poets and composers wrote what they had to. Nobody has the right to tamper with the creativity of these great composers and lyricists."
Singer and BJP MP Babul Supriyo, no fan of Atif's singing, said: "Today, even the''poetic' term ''artistic liberty' is at the verge of extinction. With due respect (and disrespect) to Atif Aslam, as a singer myself, I will observe a 2 minute silence to mourn rather than offering a comment."
Singer Alka Yagnik, whose song "Dilbar dilbar" was recently remixed for "Satyameva Jayate", said" "Why don't they make a new song and make it a superhit if they can, instead of picking up an already superhit song, distorting it, and releasing it again... and then saying, 'See, it's become so popular'!
"Chalo humaare gaanon ke saath ye zulm kartey hain (They do this with our songs)... but their audacity is increasing by the day. Now they've started doing this to Lata Didi's song as well."
Pahlaj Nihalani, the former Chairperson of censor board, wonders why Bollywood is looking towards Pakistan for music.
"Every day there is an incident. Our soldiers are being killed. We ain't say artistes are immune to politics. At the end of the day, they are citizens of their country first, artistes later."
(With IANS Inputs)