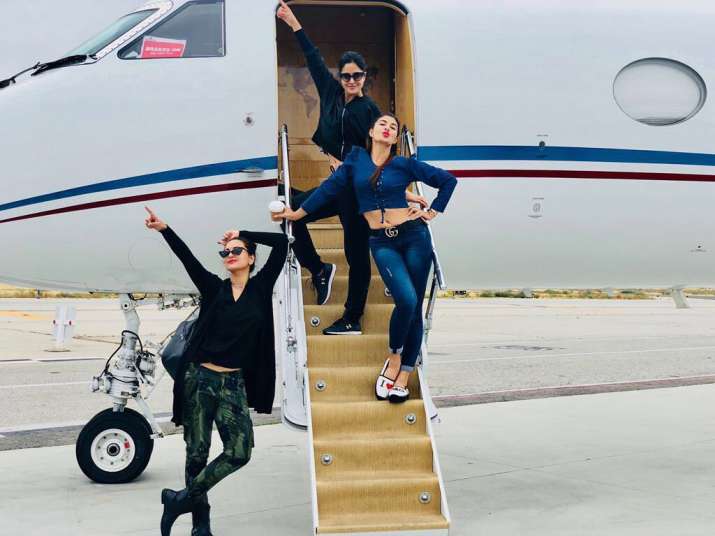 When the Dabangg Tour Reloaded kickstarted this month, the reports of brewing tension between two leading ladies of Bollywood, Katrina Kaif and Jacqueline Fernandez have been doing rounds in the media. As per the reports, the actors share cold vibes with each other to such an extent that Salman Khan had to make sure the actress don't come face to face to each other during the tour. Meanwhile, Jacqueline and Katrina's Instagram posts tell a different story altogether.
Recently Jacqueline Fernandez shared videos from inside of a chartered flight and it also had Katrina Kaif mentioned in it. Sounds surprising? If they weren't on the talking terms and couldn't stand each other in the same room, why would they be tagging each other in their Instagram posts?
In one of her posts, Jackie even mentioned that she's missing her other two tour mates; Sonakshi Sinha and Katrina Kaif.  
In another story, she shared a video of Kat having a meal on the plane and wrote, "Katrina, thanks for bringing us food!".
A Mid-Day report claimed that during their stay in the US, Katrina and Jacqueline have been allotted rooms at a considerable distance from each other. Also, Salman Khan had to ensure that the two don't bump into each other during the tour. Well, Jacqueline Fernandez's Instagram stories are proof that these are just rumours and not a single thing is true.
Katrina Kaif also shared a picture of the three ladies stepping out of the chartered plane. In the caption, she wrote, "Dallas ....... finally . @jacquelinef143 @aslisona"
Jacqueline Fernandez also shared pictures of her chilling with Salman Khan's nephew Ahil at Disneyland. Daisy Shah was also spotted with her.
Salman Khan, Katrina Kaif, Jacqueline Fernandez and others performed at Dallas on Friday.