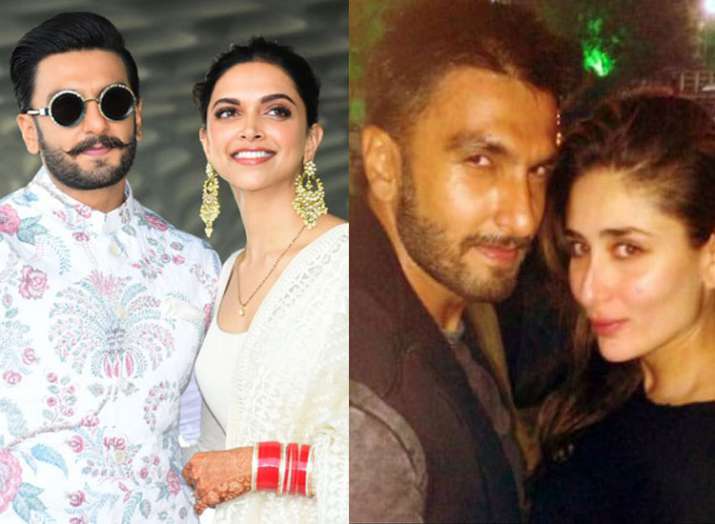 Kareena Kapoor Khan is undeniably winning hearts with her radio show "what Women Want'. Bebo as not just brought to the forefront topics that many women are embarrassed to talk about in public but has also injected confidence in women through her opinions and views. But other than bringing out stories that need to be told, the actress also entertains her audience with a segment called Bebology and fans love to see her give tips to other Bollywood celebrities. After husband Saif Ali Khan, it was Ranveer Singh's turn to seek Bebo's advice to the most important topic, 'How to be the top, top husband?'
During the session on What Women Want, Ranveer asked Kareena for advice on his married life and tips on how to achieve the title of "a top husband". Ranveer in a recorded video message for Kareena, said: "Today on the show, I would like to ask you for some tips. I just got married, so please share tips on how to be a top, top husband." To which Bebo replied, "Wow, Ranveer! Now you are just fishing. Poora India jaanta hai tum kitne loving ho towards Deepika. You don't need any tips at all. Jitna pyaar tum Deepika pe barsate ho is the sweetest thing everybody gets to watch."
Ranveer Singh got hitched with Deepika Padukone in November last year and their wedding ceremonies were nothing less than a fairytale. While Kareena knew that Ranveer already is the best husband, she nevertheless treated him with a 'magical advice' and said, "But I will give you one time and it's actually magical. You know, give each other some space. Baaki all else will fall into place."
Watch Bebology session of Kareena Kapoor Khan with Ranveer Singh here-
Earlier also, Kareena Kapoor Khan witnessed an interesting question on her show What Women Want that made her blush. Her husband Saif Ali Khan went on record to ask her about how to seek wife's attention post a baby. Saif asked Kareena for tips and questioned, "Is there a way a husband can get more attention or make his wife happier post baby?" While Kareena couldn't stop blushing after hearing husband Saif's question, she was all set for an answer and here's what she said, "Really very cheeky of you Saifu to be asking this on National radio but either ways I shall answer it. I think a husband should just be there for a wife. Baby means a lot of extra responsibilities and by sharing them, wife will automatically get happy. As for attention, plan a nice date for her to some romantic location without the baby and then see the magic. And if the wife says that she wants to spend time with the baby then don't feel bad. It doesn't mean she loves you any less. It just means for some time, her perspective has changed. Anyway, hoping for a nice romantic date from you soon, Saifu."
On the work front, Ranveer Singh and Kareena Kapoor Khan will be seen together in the ensemble cast of Takht which also includes actor such as Alia Bhatt, Vicky Kaushal, Bhumi Pednekar, Janhvi Kapoor and Anil Kapoor.
More Bollywood stories and picture galleries
For all latest news and updates, stay tuned to our Facebook page