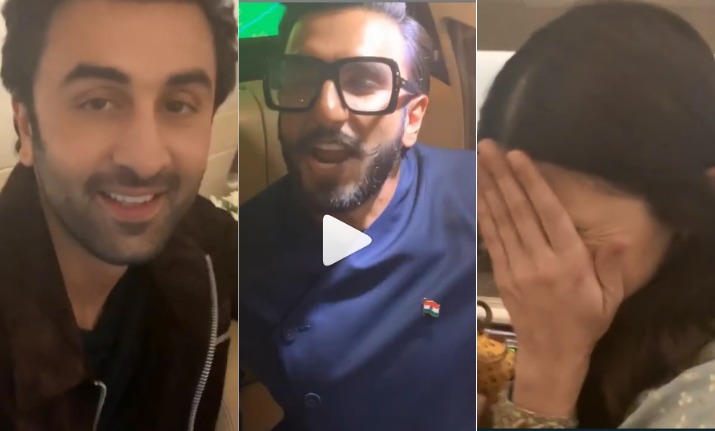 Karan Johar and his industry friends including Alia Bhatt, Ranbir Kapoor, Ranveer Singh, Ayushmann Khurrana, Sidharth Malhotra, Rajkummar Rao and Varun Dhawan. The members of film fraternity flew to New Delhi for a brief visit to PM Narendra Modi. The meeting was organised to discuss the impact of Indian cinema on our culture. They also thanked the PM to cut the GST on movie tickets. Unlike last time, this time the Bollywood team consisted of four women including Alia Bhatt, Bhumi Pednekar, Ekta Kapoor and Ashwini Iyer Tiwari. The Instagram is flooded with pictures and videos from their short trip to Delhi.
Recently, Karan Johar shared a video featuring all the Bollywood celebrities in a chartered plane. In the video we can see Alia Bhatt and Ranbir Kapoor chatting over a cup of black coffee, Rajkummar Rao and Sidharth Malhotra having a separate chat session at the back while Ranveer Singh is seated with Karan Johar.
The video has clocked more than 300,000 views on the Instagram and 1,000 comments.
In another video that's doing rounds on the internet, Ranbir Kapoor is seen protecting his girlfriend Alia Bhatt from the crowd that mobbed the couple for a selfie. However, later Ranbir, Alia and Ranveer obliged the fans with their selfies.
Talking about the meeting, producer Mahaveer Jain said, "Varun, Ayushmann, Ranbir, Alia, all of them felt very comfortable in Modi saab's company. Believe me, our entertainment industry has a tremendous amount to give to the nation. As the PM pointed out to them, these stars are role models. They have the power to influence the youth. I am surprised that this meeting didn't happen earlier. But now the process has started. We will be interacting extensively with the government, and there is no stopping us. We (the film industry) are going to be taken seriously by the government."