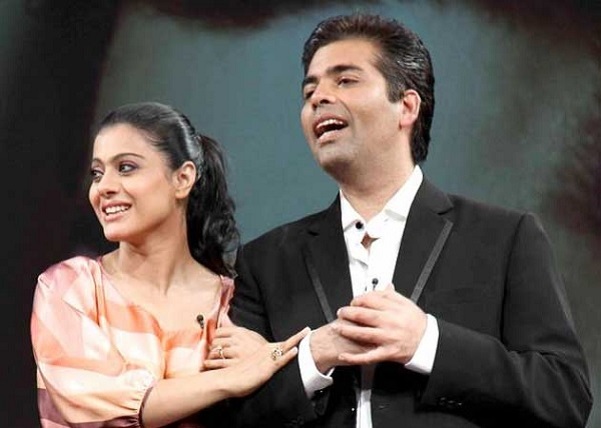 Bollywood filmmaker who is trying his hands on radio jockeying on a private radio station as a 'love guru' speaks his heart out on friendship with actress Kajol. On Tuesday, he said that she is one of his best friends and will continue to be the same even in future. After the launch of the show, he was asked if he was planning to bring her back, he said, "Kajol is and will remain as a special part of my life".
Kajol and Karan Johar who once used to be best friends fell apart during the time of Ae Dil Hai Mushkil and Shivaay. Ajay Devgn accused KJo o fpaying Rs 25 lakh to sabotage Shivaay. Ever since the clash, their friendship soured unequivocally. Karan Johar forthrightly expressed his feelings on the fallout while Kajol remained silent on the matter. Karan mentioned in his biography how he was extremely hurt by the turn of events.
The duo restored to being friends after Karan Johar posted the pictures of his twins Yash and Roohi on social network. According to the sources, he sent the pictures of his twins to Kajol along with an emotional note on how he was missing her.
When asked about his opinion on curbing the creative rights and freedom of an artist in the wake of the controversy surrounding "Padmavati", a magnum opus by Sanjay Leela Bhansali, who is finding it tough dealing with the release of his movie, Karan refused to comment.
"The show is about love, friendship and relationship. I don't want to talk now about thought-provoking issues like such (Padmavati), which calls for serious debate and conversation."
The radio show "Calling Karan" will be aired on Ishq 104.8 FM.
Excited to have formally launched my first time ever on RADIO!!! #callingKaran on @IshqFM ...your one stop advice shop for relationships and matters of the heart! I am your new BFF on Radio! pic.twitter.com/0qp6UuUc9F

— Karan Johar (@karanjohar) November 14, 2017
(with IANS Inputs)