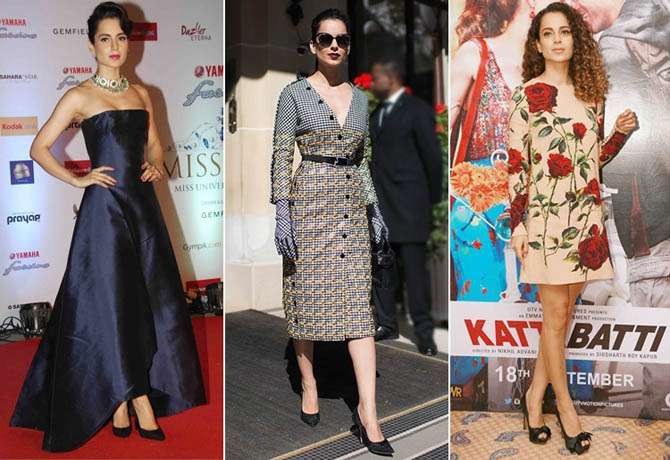 The bold and upbeat actress Kangana Ranaut is celebrating her 31st birthday today. From being a small-town girl to ruling Bollywood, the curly haired beauty has really come a long way. Starting off her cinematic career with a film like Gangster, Kangana surely raised the bar in her very first go. At an early age, the actress has already won three National Film Awards- Best Supporting Actress for Fashion in 2010 and Best Actress for Queen and Tanu Weds Manu Returns in 2015 and 2016 respectively.
As Kangana Ranaut turns 31 today, let's take a trip down memory lane as to how the fearless actress impressed and bowled us over with her spectacular film choices.
Fashion
This 2010 Madhur Bhandarkar film was mostly about Priyanka Chopra and her struggles in the modeling world. However, there's no doubt Kangana was one of the key highlights of the drama. Playing a supermodel Shonali Gujral, who's at the zenith of her career, but is overindulgent with drugs is put up against Meghna (Priyanka), who's a novice to the modelling business. Given the physical appearance that Kangana has in this movie, combined with all the flamboyance around Fashion industry, she won us over us of "being" the real drug-addict supermodel she plays on the screen. 
Queen 
The spontaneity of Kangana is unparalleled in Queen. Her charm, resilience and wittiness are beyond par and she has truly outdone herself in the movie. A Delhi-based girl 'Rani', whose fiance Vijay is not content with the marriage and cancels it, goes on a solo honeymoon to Europe, whereupon she meets Vijaylakshmi (Lisa Haydon) and they both try to forego all of their acrimonious pasts. Queen is a shining crown of a movie, with Kangana sitting atop it as a priceless gem, unvanquished and unequalled.
Tanu Weds Manu and Tanu Weds Manu Returns
Tanuja Trivedi seemed like an extension of Kangana Ranaut. Anand L Rai's film had the actress playing Tanu a brat who unwittingly gets drawn to the calm, sensible Manu despite rejecting him in the beginning. A fun film spanned over Lucknow and Kanpur, the film attained classic status for its humour, and for its performances.
Tanu and Manu came back on screen one more time with Kusum Sangwan as their third wheel. Kangana played both Tanu and Kusum with much ease. Both characters were strikingly different from each other yet Kangana managed to ace both of them, making Kusum a memorable character.
Kangana Ranaut will be seen next in Manikarnika: The Queen of Jhansi and Mental Hai Kya and, we can't wait to get bowled over once again. 
A very happy birthday to fearless and gorgeous Kangana Ranaut from India TV and family.