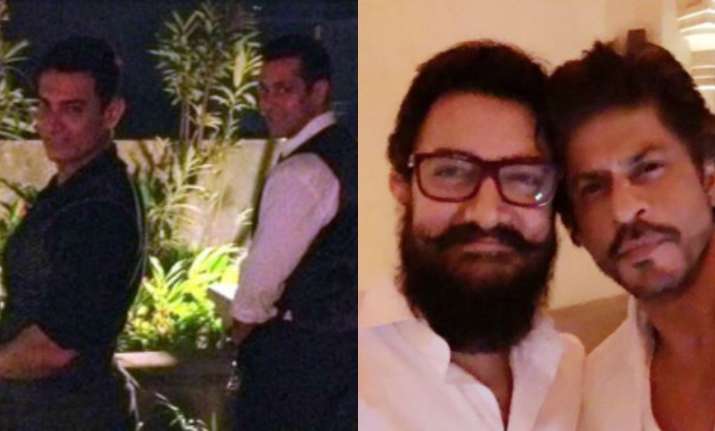 Bollywood actor Aamir Khan who is currently basking in success of his last release Secret Superstar revealed something very interesting about his fellow stars, Salman Khan and Shah Rukh Khan. Aamir who has shared the screen with Salman in Raj Kumar Santoshi's 1994 cult classic Andaaz Apna Apna recently talked about the experience when he first met the Dabangg star. 
Aamir met Salman at Raakh director Aditya Bhattacharya's house and thought of him as a ''sweet chap''. Talking to mid-day, the superstar said, ''I was at Babla's house to discuss a short film called Paranoia, where I was the actor, spot-boy, production head, first AD - all rolled into one. We shot that film for a month. I was 15, and this is the first time I ever acted. Salman was cycling around in Carter Road. He knew Babla too. We stood in the balcony and talked. He told me about how he also wanted to become an actor. I thought of him as a sweet chap''.
Aamir also disclosed that he studied with Salman for a year but at that time they didn't know each other. Both the stars were in the same class for a year in the second standard at St Anne's in Pali Hill. Talking about Shah Rukh, the Dangal actor said that he met him while shooting with Juhi Chawla. ''I remember meeting briefly, when I was shooting with Juhi [Chawla], somewhere on the road. He had begun shooting a film with her [Raju Ban Gaya Gentleman]. Deewana [his debut, 1992] hadn't released yet. He was sweet, and it was a warm meeting,'' said Aamir.
Though, we have seen Salman and Aamir together, we are yet to see Shah Rukh and Aamir in a film. Earlier this year, Shah Rukh shared the very first selfie with Aamir and fans went gaga over the duo. We also saw the trio, Aamir, Shah Rukh and Salman in the grand 25th anniversary of India TV's Aap Ki Adalat.