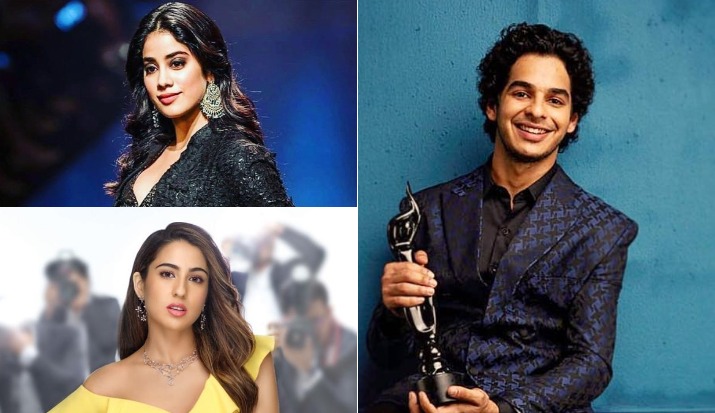 Ishaan Khattar is facing the biggest dilemma of the year. In a recent chat show of Neha Dhupia, Ishaan Khattar was asked to pick one between Sara Ali Khan and Janhvi Kapoor. How Ishaan reacted is worth knowing. 
Neha Dhupia asked Ishaan Khattar to pick one from Sara Ali Khan and Janhvi Kapoor. Ishaan Khattar who marked his debut in Bollywood with Janhvi Kapoor in Dhadak after Beyond the Clouds is allegedly dating the actress. Ishan Khattar is a good friend of Sara Ali Khan too. When Neha asked to choose between the two close friends, Ishaan Khattar reacted in an unusual manner. 
Ishaan appeared at the show along with Rajkumar Rao. Ishaan Khattar tried is best to escape the question. He said he couldn't comment on Tara Sutaria and Ananya Panday as he has not seen Student of the Year 2 yet. However, when asked to pick one between Sara and Janhvi Kapoor, Ishaan Khattar kept mum. The show had the concept of 'Say it or Strip'. Ishaan Khattar chose to strip at the show rather than making a biased choice. 
The show set on fire as Ishaan Khattar strips in front of Neha Dhupia and Rajkumar Rao. There have been rumours in the industry that Ishaan Khattar and Janhvi Kapoor are dating each other. However, they both have maintained their silence on the issue. They are often seen around each other and enjoy their time together. 
Janhvi Kapoor confessed on Koffee with Karan that she is a good friend to Ishaan Khattar. However, her elder brother Arjun Kapoor confessed the fact that Ishaan Khattar can be seen hovering around Janhvi most of the times.