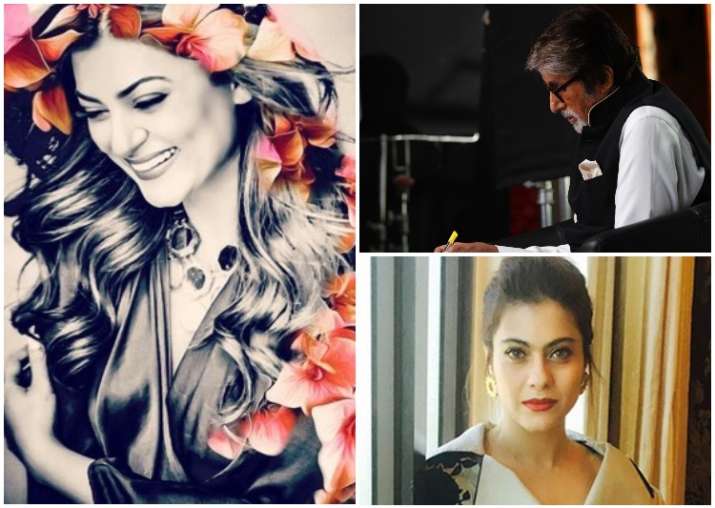 March 8 is the day to celebrate ow far we've come in terms of women's rights, and also to look ahead at how we can improve in the futureOn the occasion of International Women's Day, several Bollywood celebs such as Karan Johar, Amitabh Bachchan, Sushmita Sen, Kajol, Akshay Kumar, Rajeev Khandelwal, Gul Panag, Hina Khan, took to their social media handles and extended their wishes to their friends and fans. 
Among all the celebrities the first one comes to Former Miss Universe Sushmita Sen. Sharing the post, she wrote: #love #happiness #freedom#beauty #divinity #energy #conviction#courage Women can't be defined generically, even when mentioned collectively!!! To truly celebrate a woman, it's important to accept all 'her' nuanced differences, her innate strength, momentary vulnerabilities & yes strength again! it's often said, 'women are complicated'  well, imagine going through a lifetime of fast paced changes, physically, biologically, emotionally, socially...then realise, just how uncomplicated a 'woman' actually makes it all look!!! She's not perfect, but gives it 'HER' all, she's born with a heart of a nurturer, with the 'Will' to be a provider. She's #shakti not for the lack of fear but for owning courage inspite of it! She's a force of nature, that drives the seasons..no matter what the role, resilient until the very end! Dugga Dugga #HappyWomensDay what a privilege to be born a woman!!! With love & kisses, Alisah, Renée & yours truly!!! I love you guys!!!
The gorgeous actress Kajol posted a cute video of hers, most probably on one of her sets. She wrote, Fight like a woman #happywomensday 
Megastar Amitabh Bachchan, who is a proud feminist took to his Twitter handle and wrote: On International Women's Day , an ode to women and to the women Champions of Swachh Bharat : #SwachhShakti & @SwachhBharat
Along with the post, Big B two video links and in one of the video links, he mentioned 'my personal commendation'. 
T 2736 - On International Women's Day , an ode to women and to the women Champions of Swachh Bharat : #SwachhShakti & @SwachhBharat
Video link: https://t.co/BGvv0uBxHK

and this my Personal commendation :https://t.co/AgZsaUFAbG pic.twitter.com/vFmRUS2Hdn

— Amitabh Bachchan (@SrBachchan) March 8, 2018
The beautiful Sophie Chaudhary wrote: Look back only to see how far we've come Still so much to achieve in terms of equality of pay, opportunity, safety & respect but look how far we have come ladies!! May the Wonder Woman in us continue to fight for our own dreams and for each other!!! Happy Women's Day!! #girlpower #womensday #happywomensday #proudgirl #celebrate #grateful #strength #girlboss #positivevibes #womanpower #IWD2018
Akshay Kumar took to Twitter and wrote: Kudos to these women champions from across the country for playing a monumental role in motivating their villages and displaying their unending #SwachhShakti. @swachhbharat #WomensDay
Internet sensation Priya Prakash Varrier shared a post on Twitter on Women's Day. She wrote: "The best way to change the society and the underlying issues is to channelize the power of woman in every walk of life." #WomensDay
"The best way to change the society and the underlying issues is to channelize the power of woman in every walk of life." #WomensDay pic.twitter.com/W2REqX16mH

— Priya Prakash Varrier (@PriyaPVarier) March 8, 2018
Kudos to these women champions from across the country for playing a monumental role in motivating their villages and displaying their unending #SwachhShakti. @swachhbharat #WomensDayhttps://t.co/MzYU6nsG1B

— Akshay Kumar (@akshaykumar) March 8, 2018
Check out other Bollywood stars' Women's Day posts:
Dear women...Thanks for making our lives and the world in general so beautiful. And I sincerely hope that we men create a world where you feel the same about us. You truly deserve this celebration. Happy women's day! #WomensDay

— Rajeev Khandelwal (@RK1610IsMe) March 8, 2018
Everyday is a new challenge.
Something more to be done. Something more to be achieved.
Happy #WomensDay pic.twitter.com/CYVxdyR5Vm

— Gul Panag (@GulPanag) March 8, 2018
To the Strongest person I know
Who not surprisingly is a Woman
All because of You
And your blessings Mummy ❤

Happy Woman's Day Mummy
and Happy Women's day to all you Strong Women out there❤️💪🏻#Womensday pic.twitter.com/bJqopo1FYm

— Kartik Aaryan (@TheAaryanKartik) March 8, 2018
Happy #WomensDay to all women.. and a very happy special #WomensDay to all those Men who running fake account on Social Media with fake girl's DPs & pretending to be women.

— Paresh Rawal fan (@Babu_Bhaiyaa) March 8, 2018
Not only the Bollywood celebrities, but several TV actors extended their wishes on this special day. Let's have a look:
#happywomansday pic.twitter.com/9QV8fr90ZV

— Hina Khan (@eyehinakhan) March 7, 2018