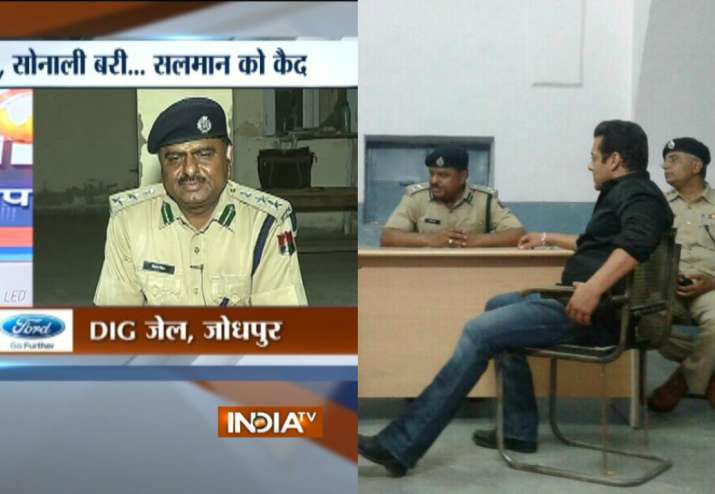 Bhaijaan of Bollywood, Salman Khan has been sentenced to five years of imprisonment after being found guilty in 1998 blackbuck poaching case. While the superstar has been convicted, the Jodhpur court acquitted his Hum Saath Saath Hain co-stars Saif Ali Khan, Tabu, Sonali Bedre and Neelam.
Salman's bail plea hearing was to take place on Friday at 10:30 pm, however, the Jodhpur Sessions Court reserved its order. The development means that the actor will have to spend one more night in Jodhpur Central Jail as Qaidi no. 106. During his last night stay, he was treated just like other prisoners and was offered dal-roti, which he refused to have.
Read More: Sonakshi Sinha, Sneha Ullal and others visit Salman Khan's residence to console his family
Talking exclusively to India TV's Editor-in-Chief Rajat Sharma on Aaj Ki Baat, DIG Jail, Jodhpur Vikram Singh said that he was surprised by Salman's behaviour. Vikram Singh said that Salman was initially worried but later on he became cool and calm. When asked about the superstar's security, DIG Jail said that he has been lodged in barrack number 2 in a heavily protected and secure cell. It has a three-layer security.
Salman told DIG Vikram Singh that he has a special connection with Rajasthan, especially Jodhpur and Jaipur. He also insisted that this verdict won't change his feelings for the princely state. The DIG said that he was surprised to see that Salman had no starry tantrums. Usually, VIPs can't tolerate the heat inside the jail but Salman said that he is used to with such conditions, revealed DIG.
For the uninitiated, the actor shot and killed the blackbuck in Kankani village near Jodhpur while shooting Hum Saath Saath Hain.
Read More: When Salman Khan opened up about marriage plans on Aap Ki Adalat