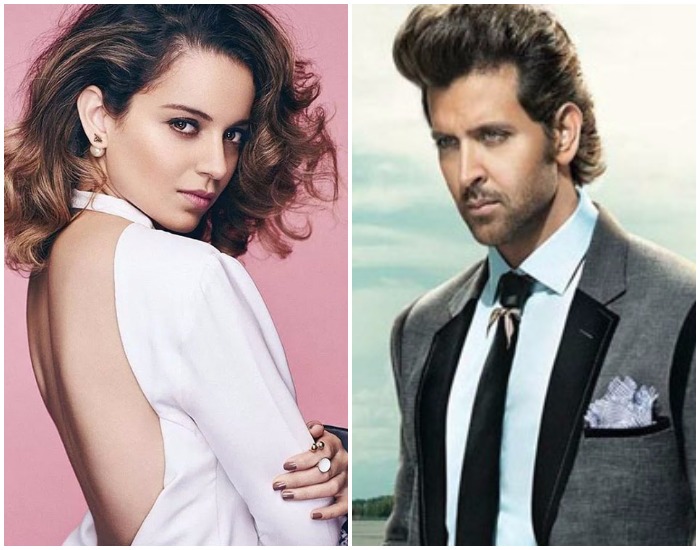 This week has been eventful for Kangana Ranaut and Hrithik Roshan's spat. Hrithik's father Rakesh Roshan, in an interview with DNA, said that his family are not loose talkers. He indirectly hit on Kangana's sister Rangoli who accused Hrithik Roshan of stalking her sister.  It wasn't even a week since these explosive exchange of words took place, that Hrithik Roshan finally broke his silence on the entire Kangana Ranaut fiasco. In an open letter he posted on Twitter, the actor poured his heart out on the entire matter. In his letter, he claimed that he never met the actress in an one-on-one meeting. 
October 5, 2017
After so many arguments presented on the Hrithik-Kangana debacle, one must've been left wondering where it all started. If you're trying to find the other end of the ugliest Bollywood fight, follow the space below. 
Here is the entire timeline of Hrithik-Kangana fallout. 
The duo allegedly started dating when they worked together for Krrish 3. Hrithik Roshan was married to his ex-wife Sussanne Khan at the point, but their marriage was in trouble. According to Deccan Chronicle reports, Kangana put an end to their relationship when she learnt that Roshan had no plans to divorce his wife. 
After Hrithik-Sussanne's divorce, the duo apparently went back dating each other. According to the reports, Hrithik asked the actress to marry him. But soon after this, he firmly denies being in a relationship with her at first place. 
Until the end of 2014, things between them were in place. But as the year 2014 was approaching its end, things went ugly. Their affair soon transformed into a dirty legal mess. It started when Kangana Ranaut in one of her interviews, refers to 'silly exes'. 
Hrithik Roshan was quick to hit back on this comment with his tweet. He tweeted: 
Ther r more chances of me having had an affair with d Pope dan any of d (Im sure wonderful)women d media hs ben naming.Thanks but no thanks.
Here's what Hrithik Roshan said in his legal notice: 
Hrithik sent a notice demanding an apology from Kangana Ranaut for referring to him as her 'silly ex'. 
"Since quite sometime you (Kangana) have been insinuating and trying to create an image within the film industry through print and social media and in public at large that there was some relationship between our client (Hrithik) and you," the notice sent by Hrithik's lawyer Deepesh Mehta said. 
It added, "Our client states that it is needless to mention that there was no relationship between him and you. You are trying to propagate a false idea and thereby gain publicity with ulterior motives and mala fide intentions."
Kangana Ranaut;s lawyer hits back at Roshan with a 21-page reply
"She is not some dim-witted teenager who has been smitten and that whatever happened between the two of them was with full consent of both parties."
"It is pertinent to record that your client throughout supported my client and fully involved her. He also did not make any attempt to block her. There is no communication from him to my client objecting to emails. This proves that he received the emails with his participation and consent," the legal notice sent by Kangana's lawyer read. 
Kangana's lawyer Rizwan Siddique also said, "Hrithik doing anything like this is the silliest thing he could have ever done. He has made a fool of himself. It's been more than seven days we haven't got any reply from them. We are waiting for them to react to the notice first as we have the facts and law on our side."
Hrithik Roshan accused Kangana Ranaut of sending him emails
According to Hrithik Roshan, Kangana and he met at Karan Johar's party where Kangana thanked the actor for appreciating her film Queen in an email. 
"To this, our client told you that he has not seen the movie yet. Our client further clarified to you that the email ID from which you received the mail was not his and he gave you his real email ID."
"On coming to know of Hrithik's real email ID, you (Kangana) sent a barrage of emails to him. Our client tried to ignore all the emails (total 1439) to him even though it amounted to mental harassment and stress. Besides sending emails to our client you have also been telling people in the film industry about your affair with him and then called our client a 'silly ex'," the notice read. 
Kangana Ranaut replies: 
"My client (Kangana) states that it was Hrithik who wanted to communicate from a newly created ID because of his impending divorce. In an effort to safeguard his name, image and reputation your client (Hrithik) time and again malafidely and in mischief hacked my client's email ID and deleted all the mails sent by him," Kangana said in her notice. 
Hrithik Roshan claimed that Kangana Ranaut was suffering from Asperger's Syndrome
He alleged that Kangana Ranaut created a scene during the shooting of Krrish 3 in a drunken state. According to him, Rangoli apologised to him saying she is suffering Asperger's syndrome. 
"Your sister told my client that you are suffering from Asperger's Syndrome and requested him to not tell anyone. Our client kept his word till date," the notice read. 
According to his allegations, Kangana also approached Rakesh Roshan who conveyed that his son wasn't interested in her. 
Kangana Ranaut's response to the claims: 
"In January 2011 and 2012 Kangana was invited for your (Hrithik) sister's birthday parties. In 2013, you, your wife and your parents attended Kangana's birthday party and then in September 2013 Kangana attended your father's birthday party. All these parties were private affairs," Kangana said in her notice.
"Your client (Hrithik) is living in his own illusionary narcissist world which starts and ends at self-aggrandising. Kangana, in her interview about her silly exes, never mentioned the name of your client (Hrithik). It was your client's own unwarranted and uncalled reaction that made people look at him and assume that the 'silly ex' could be your client," her notice said.
Kangana Ranaut in Aap Ki Adalat in 2017
The old graves were dug yet again when the actress made explosive revelations about her alleged affair with Hrithik Roshan. She also demanded an apology from Rakesh Roshan and his son for maligning his image in public. After two years, Hrithik Roshan breaks his silence on the matter with an open letter on Twitter.