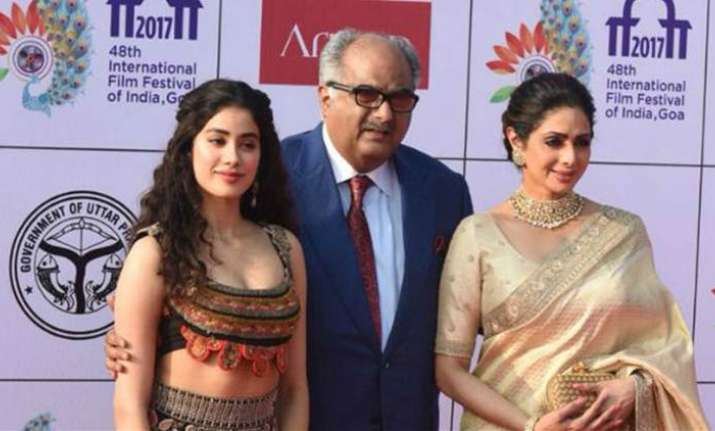 On February 24 2018, the world stood shocked when it was confirmed that veteran actress Sridevi had passed away. It's been more than three months and Sridevi's fans are still in disbelief and denial about her death. Her elder daughter Janhvi Kapoor, who is all set to maker her Bollywood debut with Karan Johar's Dhadak, is a splitting image of the legendary diva. Now, when Sridevi won the Best Actress Award at the 65th National Film Awards held a few weeks ago, husband Boney Kapoor and Janhvi were asked about the actress.
When the media asked her to comment on Sridevi's National Award win, she was extremely proud to say, "I think both of us (Khushi and I) would like to thank the jury for recognizing the hard work, perseverance and dedication that my mother has put into this role. It was very special to her and we are very happy that she is being appreciated for it." She also thanked the Government of India for recognizing her mother's achievement after father Boney Kapoor asked her to mention about it."
When the emotional daughter was further asked if she misses her mother, Janhvi refused to comment saying, "I don't want to talk about it."
Meanwhile Boney Kapoor broke down talking about his late wife. When a journalist asked Boney that the film for which Sridevi won the award is called Mom, so, do Janhvi and Khushi miss their mom every day? To this Boney answered, "Of course, they miss their mom every day. I miss her every second too. But you cannot fight destiny and have to accept the reality". Boney then broke down, and said, "I am trying my best to play the double role of being a father and both".
Watch the video here
The 65th National Film Awards 2018 were held at Vigyan Bhavan, Delhi on May 3, 2018. And Sridevi Kapoor was posthumously honoured with the Best Actress award for her last film, Mom.