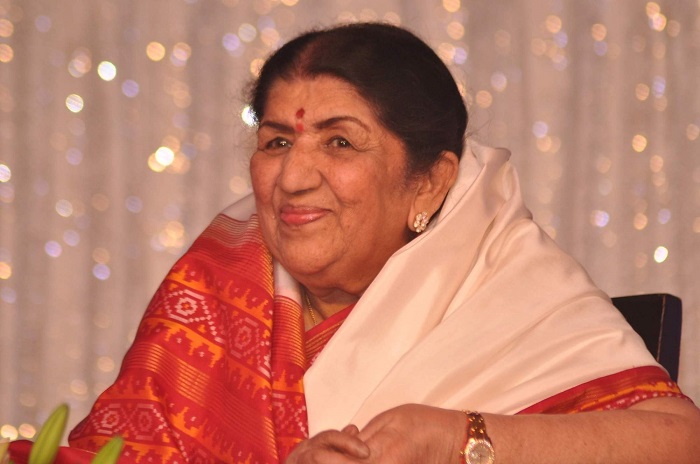 When we're discussing melody, Lata Mangeshkar is the name that pops unanimously on our mind. In a tender age of 13, Mangeshkar took the mic to record her first song. No one knew that this girl would go on to write down the history of Indian music in the coming years. The nightingale of Indian music turns 88 today, that is on 28th September. The singer has recorded more than 25,000 songs for the Indian films. Although, Lata Mangeshkar melodies have always remained an important and indispensable part of our lives, we take a moment on this day to rewind our mind back to the golden era of music. 
Beeti Na Bitai Raina (Parichay)
This  1972 film won this legendary singer with National Film Award for Best Female Playback Singer for the songs. This song Beeti Na Bitai Raina, voiced by Lata Mangeshkar and Bhupinder Singh is the perfect song for those nights when you keep tossing on the bed, sleepless. It's even more visually satiating to see young Jaya Bhaduri in the video, clad in a white saree sans makeup. 
Roothe Roothe Piya (Kora Kaagaz)
Lata Mangeshkar has a song suiting every situation of life. Sample this song from popular movie Kora Kaagaz, where gorgeous Jaya Bhaduri is trying to make it up to her love, Vijay Anand. This song will bring the brightest smile on your face even if you're not in the very good mood. And for your records, Kora Kaagaz won Lata Mangeshkar National Film Award for Best Female Playback Singer. 
Yaara Silli Silli
There's something about the old melodies, once you start listening to them, you can't stop yourself on just one song. Take this song for an example, from the movie Lekin, featuring Dimple Kapadia singing her heart out lost in a jungle. With this movie, Lata Mangeshkar becomes the oldest winner of National Film Award at the age of 61. 
Lag Jaa Gale (Woh Kaun Thi?) 
It won't be an overstatement to say that Lag Jaa Gale is indeed the most romantic song Indian cinema has ever had. Listen to this song and you'll be teleported into a different realm in itself. These are my personal favourite lines from the song. 
Ham Ko Mili Hain Aaj, Ye Ghadiyaan Nasib Se
Ji Bhar Ke Dekh Lijiye Ham Ko Karib Se
Phir Aap Ke Nasib Men Ye Baat Ho Na Ho
Shaayad Phir Is Janam Men Mulaaqaat Ho Na Ho
If this isn't true melody, then I don't know what is. 
Aap Ki Nazron Ne (Anpadh) 
Old songs had the exquisiteness of poetry and meaningful lyrics in them, which make them immortan in the time of remixes. Isn't it? Listen to this song from movie Anpadh, featuring Mala Sinha and Dharmendra. Keep your volumes up and forget the rest of the world. Honestly, we owe a million thanks to Lata Mangeshkar for giving us a plethora of musical escapades. 
In an interview with Hindustan Times, Lata Mangeshkar expressed that she still wants to sing but not for the films. She personally don't like singing for the film. She has recorded Gayatri Mantra, Hanuman Chalisa, Ghazals and other devotional songs lately.