Follow us on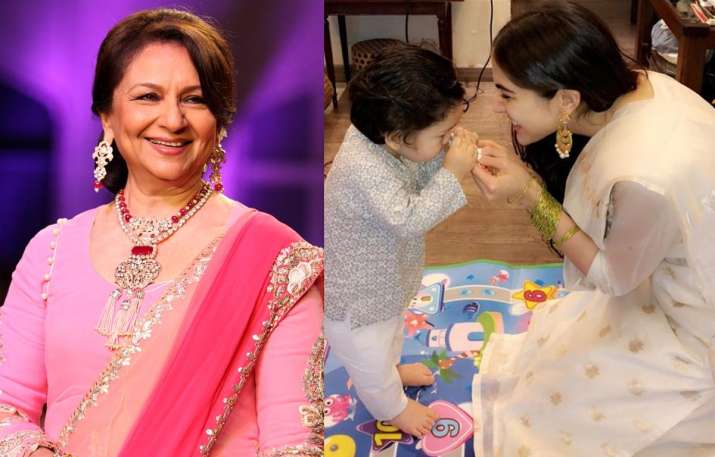 Veteran Bollywood actress Sharmila Tagore will turn 74 soon and before her birthday, she opened up about her late husband and grandchildren in an interview. The ace actress is quite happy with Sara Ali Khan's confidence, humility and charm. She also wants media to be a bit sensitive towards internet star Taimur.
Excerpts from the interview:
Q. Sharmilaji what are you doing this birthday?
A. Not very much, I'm afraid. Some friends will drop in. Soha is coming. The other children Sabaa and Saif will also come if they can. Let's see.
Q. You were quite a phenomenal combination of mother and actress in your heydays? During the shooting of Aradhana you were pregnant with Saif…
A. I don't think I was pregnant during Aradhana. But yes, during Safar and Choti Bahu I was pregnant and quite unwell in the last phase of my pregnancy. Then during Besharam, I was pregnant with Sabaa.
Q. Are you still keen on a biopic on your husband the Nawab of Pataudi?
A. Well, it will depend on who the captains of the ship are, the producers and director. It is a good story, I think, with all the twists and the turns in his life….father's death, losing his eye after which his average came down from 60 to 30. To receive such a blow at such a young age….I don't think anyone else has been able to make those adjustments and that kind of an impact with one eye. He not only batted but also fielded after the eye accident. I think he was a wonderful sportsperson. God knows, what he'd have achieved if he had both his eyes.
Q. We never thought of him as being visually impaired at all?
A. That's because he had a wonderful temperament. He absorbed that loss and moved ahead. Tiger's life was filled with losses, his father, his eye, his privy purse…In her book, Soha has written so well about her father.
Q. Would you like Saif to play Pataudi Saab?
A. No, let them (the filmmakers) decide. Maybe Saif can be in one phase of the story. His story has so many phases. Even a good documentary is a good idea. Unfortunately, there isn't too much footage on Tiger available.
Q. Sharmilaji we cannot possibly wrap up this interview without …
A. (interrupts) Without talking about Sara? Yes, I am so excited about her debut (in the film Kedarnath). I am very impressed by her… though I don't see why her self-confidence should surprise me. But whether it was Koffee With Karan, Rajeev Masand, BBC…her confidence, humility and charm made me so happy ….it's so heartwarming to see her the way she has turned out. When asked what she's doing in films after going to Columbia University she said the education was for her growth as a person and not for career. She's never tongue-tied. And how well she stood up for her father on Karan Johar's show. I am really proud of her.
Q. Finally Sharmilaji, your grandson…the biggest Khan superstar Taimur?
A. (laughs) I must confess I'm worried about him a bit. We in this family have all had our share of media attention. They place you on a pedestal and then suddenly drop you. At the moment Taimur is not affected because he's too young to understand what's going on. But later when he's older and if the attention is taken away he might get affected. So we are a little concerned. But as Sara said, what can we do about it? Frankly, without media, we are not alive in today's day and age.
Q. Taimur fields the media better than all of you?
A. (laughs) He's innocent and he's young…Let's hope he won't be adversely affected. I'd like to request the media to be a bit more sensitive to him. Otherwise, what can we do?
(With IANS inputs)
More stories and picture galleries
For all latest news and updates, stay tuned to our Facebook page